Interco Recycles Manufacturing Scrap
Interco Recycles Manufacturing Scrap
As one of the largest indoor, nonferrous metal recycling facilities in North America, Interco works closely with the manufacturing industry. The company recycles nonferrous metals for a variety of different manufacturing trades including automotive, telecom, solar panel, and ammunition. Interco recycles manufacturing scrap for many different industries, and the facility is equipped to process large amounts of manufacturing waste. The Interco staff offer safe and efficient manufacturing recycling solutions for customers all over the world.
Interco Recycles Nonferrous Metals for Manufacturing Industries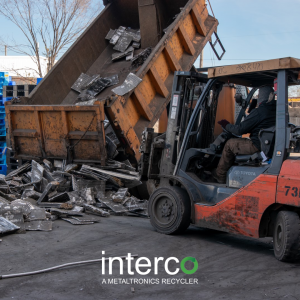 Interco processes over 12 million pounds of nonferrous metals per month. Manufacturing processes vary greatly among industries, but in general the processes produce the following byproducts:
Skimmings
Sludges
Dross
Dust
Turnings
Shavings
Slag
These byproducts typically contain nonferrous metals such as aluminum, titanium, zinc, nickel, and brass. Interco uses several different processes to recycle nonferrous metals:
Firstly, both mechanical separators and hand sorting techniques separate metals according to grade.
Secondly, if necessary, the materials undergo processing in the metallic powder and dust separation plant.
Next, a machine shreds the sorted metals into smaller pieces.
Lastly, the sorted, graded, and processed metals are packaged for shipment to end customers. These customers will refine and smelt the metal into ingots for manufacturers to use to make new products.
Interco Recycles Manufacturing Scrap for Many Industries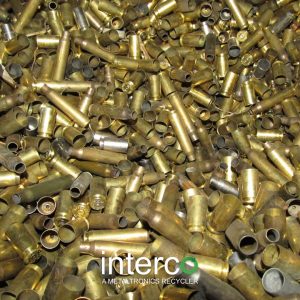 Interco contributes to every step of the recycling process for the manufacturing industry. The company buys, processes, and sells metals both from and back to manufacturers for reuse in new products.
For example, ammunition manufacturers depend on Interco to recycle ammunition in large quantities. Brass shells are the most common recyclable form of ammunition. Interco efficiently recycles ammunition from gun ranges using state of the art separation technologies to process the scrap rounds. Firstly, employees used the ammo separation line to clean and decontaminate the impurities from the brass shells. After sorting, "popping" live shells, grading, and repackaging the scrap ammunition, the metals are often sold back to ammunition manufacturing companies. Finally, they use the scrap metal to manufacture more ammunition.
The Interco Facility is Equipped to Process Large Amounts of Manufacturing Waste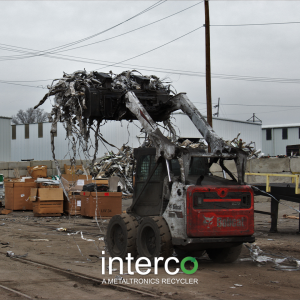 Interco recycles manufacturing scrap at the company's 450,000 square foot recycling building. The facility is comprised of five buildings on more than 45 acres centrally located on the Illinois-side of St. Louis in the shadows of the Gateway Arch. The facility boasts a 145,000 square foot processing plant dedicated to the processing of computers and electronics with a patent-pending state-of-the-art Lithium-ion battery recycling plant. However, the remainder of the indoor facility is used in the recycle of nonferrous industrial metals.
Companies Rely on Interco for Safe and Efficient Manufacturing Recycling Solutions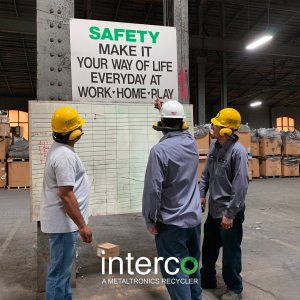 Safe manufacturing recycling solutions require a company that holds high recycling standards. There are many potential hazards during the recycling process that can result from following incorrect procedures. For example, solar panels, e-scrap, and batteries all contain toxic chemicals that can cause major environmental and human health damage is recycled improperly. In addition, other recycling processes that may pose safety hazards include loading and unloading of materials, the breaking and separating processes, gas torch cutting, other cutting, and packaging materials using bailers, compactors, and shredders. However, the staff at Interco is highly qualified to safely handle high-risk materials in the recycle of manufacturing scrap. Several certifications demonstrate the company's commitment to safe and secure recycling practices:
R2:2013 – Responsible Recycling Standards
ISO 14001 – Environmental Management Systems
ISO 9001 – Quality Management Systems
ISO 45001 – Occupational Health and Safety Assessment Series Management Systems
Recycling manufacturing waste with Interco also ensures the highest return on investment. The commercial trading department at Interco has established contracts with suppliers and end consumers around the globe. End consumers such as smelters, refineries, and mills often require inbound loads weigh at least 40,000 pounds. Many recycling companies cannot generate this much, but Interco can by using contracting partners. These end consumers rely on Interco to provide a recurring stream of material to manufacture new products. The contract partnerships also allow Interco to offer a higher price to supplier than many of their competitors because they do not need to search for an end consumer.
Choose Interco to Recycle Manufacturing Scrap
Interco recycles nonferrous metals including manufacturing waste. The company specializes in the subsequent placement of smelter-ready materials to end consumers across the globe. Expert staff safely sorts, grades, processes, and repackages scrap worldwide. The Interco commercial department utilizes established partnerships with end consumers in the United States, Europe, Latin America, and Asia to provide the highest return on investment to their customers. As a result, manufacturers all over the world rely on Interco to recycle manufacturing scrap.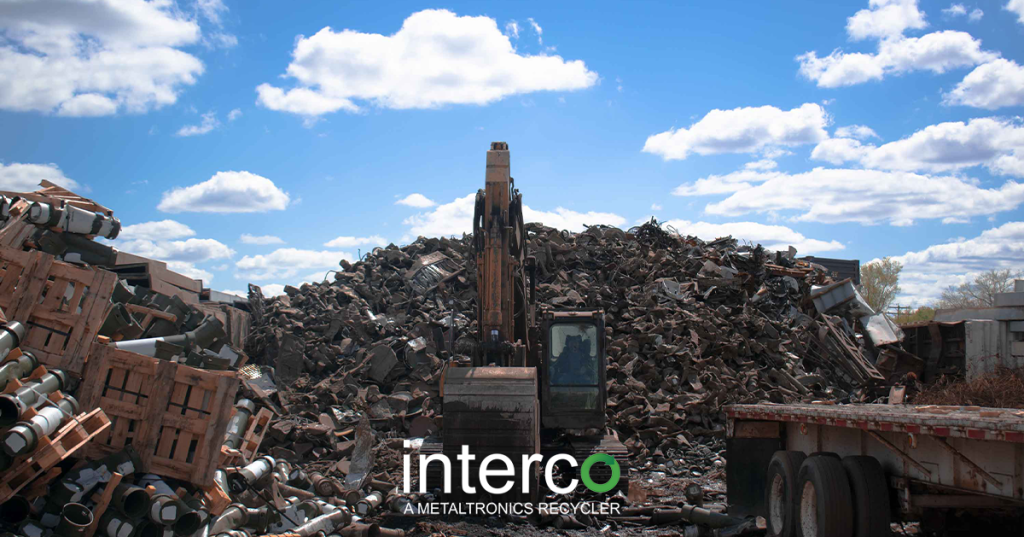 Tagged: