Interco Recycles Telecom Materials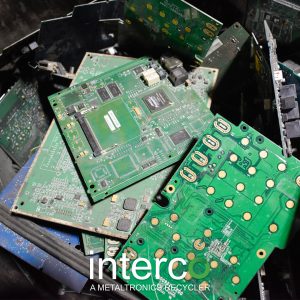 Interco Recycles Telecom Materials
Founded in 1996 as an e-scrap recycler and processor, Interco leads the industry in e-scrap and telecom equipment recycling. The 400,000 square foot facility has 7 buildings and expert staff committed to providing the best value for telecom scrap. The facility processes over 20 million pounds of escrap and nonferrous metals per month. Interco recycles telecom materials including outdated equipment, towers, and cell phones. Recycling telecom equipment such as cell phones conserves natural resources by keeping reusable materials out of landfills. Companies around the world rely on Interco for safe and secure telecom and e-scrap recycling.
Interco's Telecom Equipment Recycling Process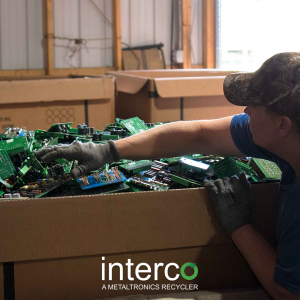 Interco has the ability to process many types of scrap telecom parts using various recycling techniques. Firstly, Interco's e-scrap dismantling line recycles electronics such as phones, routers, modems, and computers. The e-scrap dismantling line processes about 4 million pounds of electronic waste per month. This is nearly a quarter of all materials processed by Interco. Secondly, The battery processing plant handles scrap telecom parts that contain lithium-ion batteries. Interco's innovative battery processing plant has 4 patents pending. Lastly, expert staff sort metals by type and grade. Interco's team is comprised of non-ferrous metal grading experts with more than 150 years of combined experience.
Telephone operators, cable companies, network carriers, and internet service providers rely on Interco for safe and secure e-scrap recycling. Interco was the second company globally to obtain R2v3 Certification. This assures their customers that data security and environmental concerns are of the highest importance.
Recycle Telecom Materials for Maximum ROI
Telecom e-scrap contains metals such as copper, silver, gold, pallidum, and aluminum. Utilizing the e-scrap dismantling line, Interco recovers the highest possible reusable materials from telecom equipment. This line separates wire types, motherboards, batteries, printed circuit boards, and other electronic components from telecom equipment. Following separation of items, staff expertly sort metals to ensure the highest quality metal for the end consumers.
Using recycling methods to recover valuable metals is typically more cost-effective than traditional methods. For example, recycling one ton of circuit boards can recover 800 times more gold than mining one ton of ore. It can also recover 40 times more copper. In addition, recycled lithium-ion batteries often contain higher amounts of nickel and cobalt than ore.
Recycle Cellphones to Keep Reusable Materials out of Landfills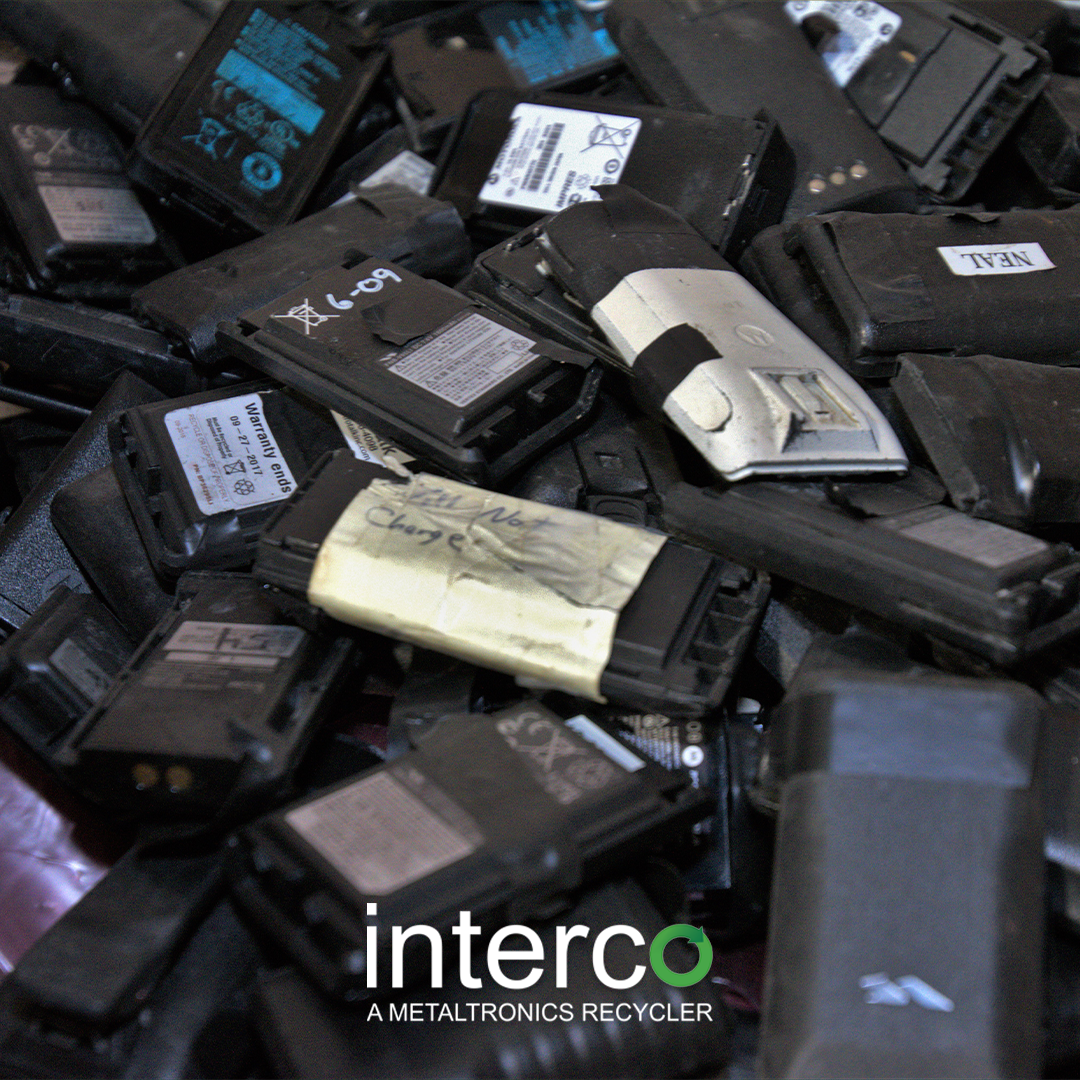 Up to 80% of a cell phone can be reused. Therefore, Interco buys, sorts, and recycles cellphones. About 350,000 cellphones are thrown into landfills each day, totaling over 150 million phones per year. One million recycled cellphones are the equivalent of:
35,274 pounds of copper
772 pounds of silver
75 pounds of gold
33 pounds of palladium
After separating the cell phone materials, Interco sells them to refineries, smelters, or back to cell phone manufacturers. In addition to reducing the need to mine for precious metals, recycling cell phones has environmental value. Recycling cell phones keeps hazardous material such as lead, mercury, arsenic, and cadmium from polluting the environment.
Interco Recycles Scrap Telecom Parts for Reuse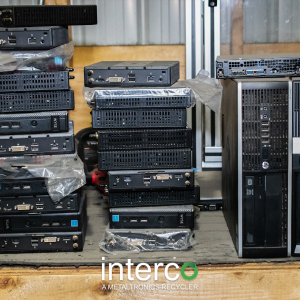 Interco recycles a wide variety more telecom materials than just cellphones. For example, scrap telecom parts also include hard drives, networking and radio equipment, heatsinks, cable boxes, and servers. The rise of 5G networks has led to the replacement of many cell towers. Cell tower materials include metals and other e-scrap. In addition, telecommunication's increased role in the Internet of Things (IoT) has created a large number of scrap telecom parts. Telecom providers play a large role in IoT. Their customers rely on them to provide vast connectivity services. However, this has led to the replacement of many outdated parts which must be recycled.
As 5G and IoT rapidly expands and develop, the need to efficiently recycle obsolete equipment also expands. Interco's facility and expert staff are equipped to tackle this need. The company has multiple processing plants, lines, and procedures that have streamlined the process of recycling. Metals are quickly but accurately sorted by type and grade to provide the best value to their customers. After obtaining the metals from telecom equipment, Interco sells and delivers the scrap to ingot makers, refineries, smelters, and manufacturers. These consumers then reuse the materials in new products.
Choose Interco for Telecom Equipment Recycling
With over 25 years of experience and expertise, Interco is a telecom equipment recycling leader. Using their innovative recycling techniques, Interco can recover high amounts of reusable materials from scrap telecom parts. Interco's facility is located on the Illinois side of St. Louis, across the Mississippi from the Gateway Arch. Located on 45+ acres, the facility has everything needed to efficiently recycle telecom materials.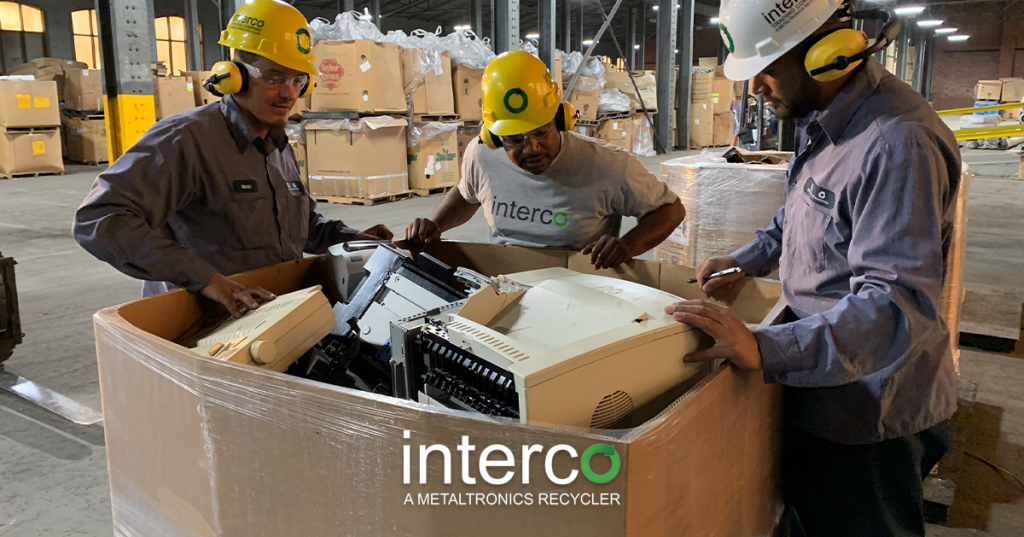 Tagged: