Interco Recycles Scrap Railroad Parts
Interco Recycles Scrap Railroad Parts
Interco offers many services to the railroad industry including the recycle of scrap railroad parts. The company recycles scrap railroad parts including non-ferrous metals, batteries, and e-scrap. Interco buys and recycles railroad scrap at its centrally located facility on Illinois side of St. Louis, across the Mississippi from the Gateway Arch. The Interco team delivers innovative solutions, competitive pricing, and quality service throughout the supply chain.
Railroad Industry Scrap Parts – Batteries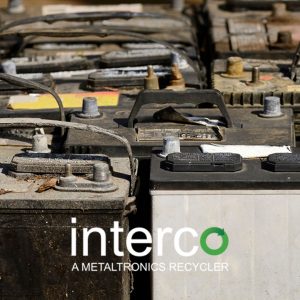 The railroad industry relies on Interco to provide the highest scrap value for recycled railroad metals, outdated electronics, and batteries. Batteries are an integral part of railway systems. Safety devices such as crossing guards and lighting systems are crucial to ensuring worker and civilian safety. Batteries make sure these safety features are operational even during a disruption of power which can occur at any time.
In recent years, the idea of battery-powered trains has become popular. The world's first battery-electric freight train contained 500 lithium-ion battery modules. The future of the rail industry will rely on batteries. Eventually, these batteries will be decommissioned and will need to be safely disposed of. Therefore, Interco is ahead of the competition as they already have a designated battery processing plant with 4 patents pending.
Recycle Railroad Metal with Interco to Maximize ROI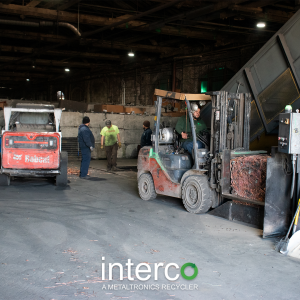 After purchasing scrap railroad parts, Interco extracts the metals for reuse. Batteries contain nickel, cobalt, copper, and lithium. Most e-scrap contains precious metals such as gold, cadmium, chromium, silver, tungsten, and more. Interco's process to recycle scrap railroad metals eliminates a need for new mining. The valuable metals can be recovered, processed, and reused in new products. Many smelters, refineries, ingot makers, and mills require that inbound loads weigh at least 40,000 pounds. However, most railroad companies do not have the space to accumulate large amounts of these metals. Contracts with suppliers and end consumers Interco's recycling processes allow the company to provide the highest scrap value. Interco provides a needed service by purchasing high quantities of parts and therefore extracted metals. In turn, railroad manufacturers rely on Interco to provide a steady recurring stream of reusable materials.
Recycle Scrap Railroad Parts with Interco – The E-waste Recycling Process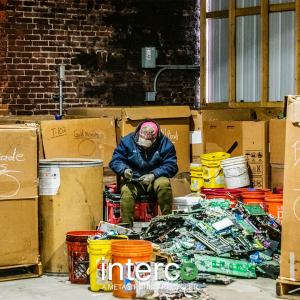 Aside from the standard tracks, building materials, and batteries, rail cars and buildings have electronics that need to be recycled. Interco recycles e-scrap like control panels and networking equipment to extract more valuable metals such as copper, silver, and gold. Interco uses an efficient e-scrap dismantling line to obtain the maximum amount of reusable metal:
Firstly, trained employees disassemble the electronic parts.
Secondly, the contents are separated and sorted by hand.
Then, material undergoes mechanical separation techniques.
The separated individual components are taken to different recycling points for further processing.
Finally, non-recyclable materials are packed and properly disposed.
The ability to extract more metals out of electronics than competing recycling companies, makes Interco a leading e-scrap recycler.
Interco Offers Expert Solutions to Recycle Railroad Scrap
Interco recycles railroad metal at their 400,000 square foot facility where Interstates 64, 70, 55, and 44 meet. Interco's recycling facility consists of 7 building across 45 acres. Service areas include USA, Canada, Mexico, Central and South America. The expert staff at Interco have over 150 years of combined experience in sorting and grading non-ferrous metals.
Some aspects of recycling e-scrap, batteries, and non-ferrous metals can be dangerous. For example, battery recycling comes with many risks. Batteries contain toxic chemicals can leach into the soil and air when recycled improperly. If punctured, damaged, or heated, they can also cause fires. The highly trained Interco staff is qualified to safely recycle materials that are a high-risk. Interco's commitment to safe and secure recycling practices is demonstrated through several certifications:
R2:2013 – Responsible Recycling Standards
ISO 14001 – Environmental Management Systems
ISO 9001 – Quality Management Systems
ISO 45001 – Occupational Health and Safety Assessment Series Management Systems
Choose Interco to Recycle Railroad Scrap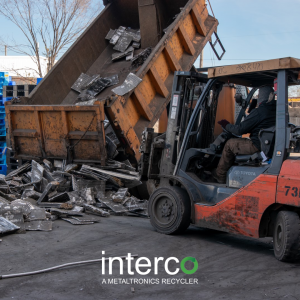 Interco efficiently and safely recycles railroad metals, scrap parts, and batteries. Many scrap railroad parts are part of the e-waste recycling stream as well. Since 1996, Interco has been a recycling leader in e-scrap and non-ferrous metals. For 25 years, Interco has demonstrated their commitment to safe and efficient recycling. The company has achieved highest standards of environmental care and awareness as well. For example, Interco was only the second company in the world to achieve the R2: 2023 certification. Interco's innovative recycling processes and expert staff allow for a maximum return on investment to suppliers. As a result, the rail industry relies on Interco to recycle scrap railroad parts.
Tagged: