Interco Recycles Mining Scrap
Interco Recycles Mining Scrap
Interco recycles mining scrap and contributes to the urban mining process. The e-scrap recycling process is a key component of urban mining. Interco also recycles mining equipment scrap parts that have been decommissioned. The mining industry and other manufacturers rely on Interco's expertise and experience for recycling.
Interco Extracts Materials through Urban Mining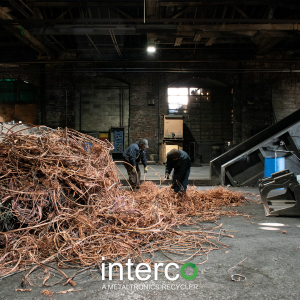 Interco contributes to urban mining by processing the recycle of non-ferrous metals and electronic waste. Items such as household appliances, phones, computers, vehicles, ammunition, and more contain metals that can be processed and reused. Many of these items contain high levels of precious metals such as gold, silver, chromium, cobalt, cadmium, and more. All these metals can be reused in the manufacture of new goods. For example, 80% of a cell phone is recyclable. Yet, Americans throw away cell phones containing over $60 million in gold and silver each year.
The staff at Interco has over 150 years of experience in sorting and grading non-ferrous metals. This ensures the highest quality of material and return on investment for suppliers and end consumers. Interco then sells these metals to manufacturers, ingot makers, and smelters. Most smelters, refineries, ingot makers, and mills require that inbound loads weigh at least 40,000 pounds. Those same companies rely on suppliers like Interco to provide a recurring stream of material. Smaller recyclers simply cannot generate enough material or have the financial means to accumulate large amounts to satisfy the needs of the smelting and refining market.
Interco's E-Scrap Recycling Process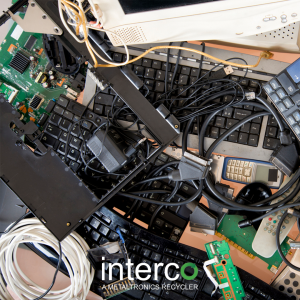 Interco began as an e-scrap recycler in 1996. With over 25 years of experience in e-scrap recycling, Interco is a leader in the field. Interco's e-scrap recycling process separates metals from electronic components using the e-scrap dismantling line. The e-scrap dismantling line accounts for over 4 million pounds of Interco's monthly processing amount.
The e-scrap dismantling line consists of the following steps:
Firstly, trained employees disassemble the electronic parts.
Secondly, the contents are separated and sorted by hand.
Then, material undergoes mechanical separation techniques.
The separated individual components are taken to different recycling points for further processing.
Finally, non-recyclable materials are packed and properly disposed.
The metal extracted from e-scrap is mainly used as new, raw material in the production of new products.
Interco Recycles Mining Equipment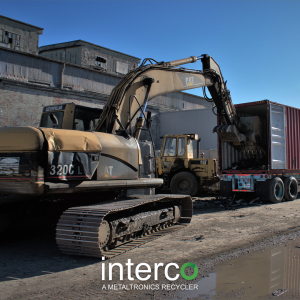 Interco recycles mining equipment that is out of date and can no longer be used in conventional mining applications. Even though urban mining is the preferred method, it is a relatively new industry and is not enough to meet the demand of certain materials. Therefore, the standard mining industry is still active and will need to recycle old mining equipment. Interco recycles any non-ferrous mining scrap equipment. This equipment includes REDA cables and pumps, electric motors, cap lines, electrical submersible pumps, and admiralty brass tubes. The recycling process recovers metals including copper, zinc, tin, brass, and stainless steel from these parts. Interco then sells these valuable scrap metals back to ingot makers, refineries, smelters, and sometimes even back to mining manufacturers.
The Mining Industry Relies on Interco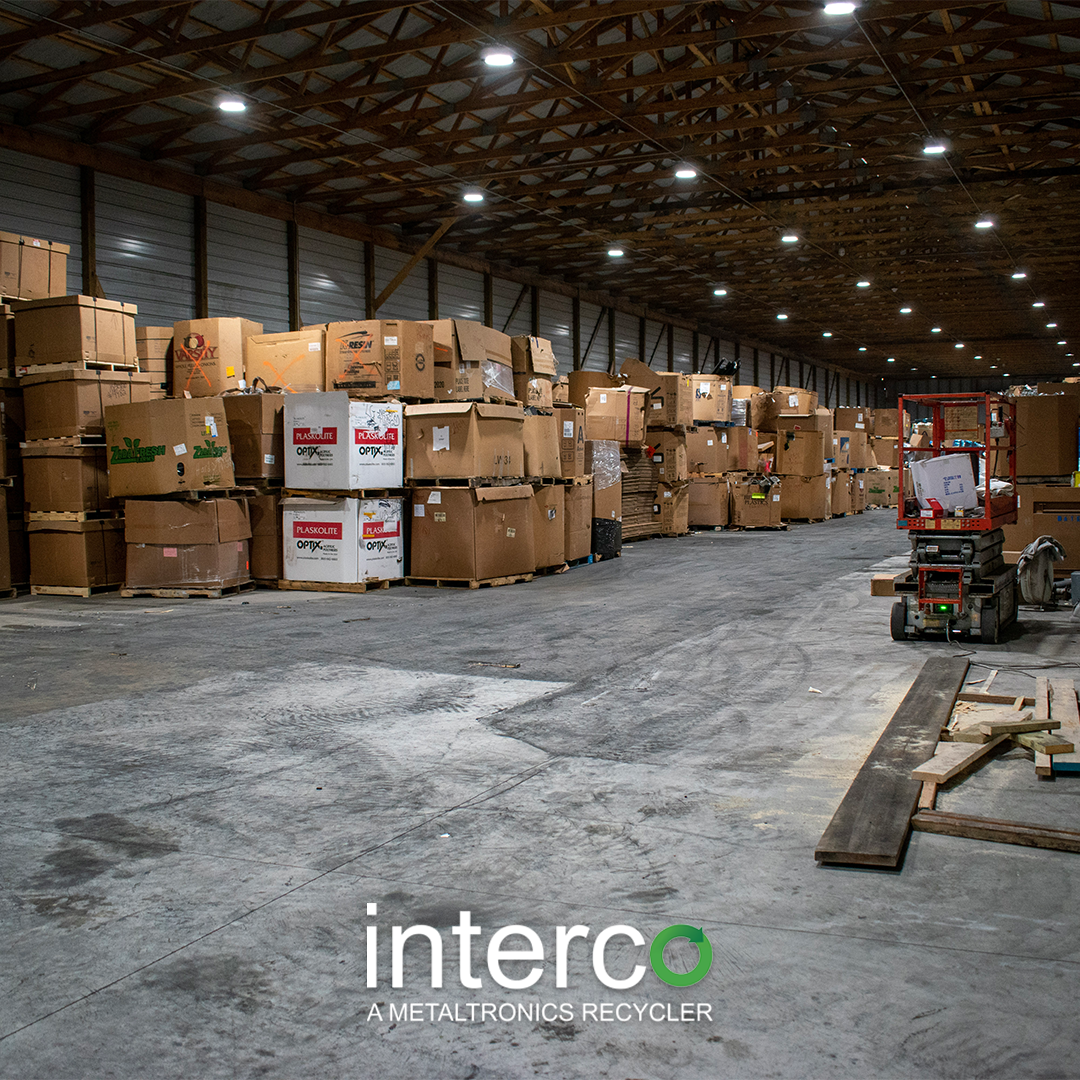 Interco's facility is centrally located on the Illinois side of St. Louis, across the Mississippi from the Gateway Arch. Service areas include USA, Canada, Mexico, Central and South America. Interco's recycling facility consists of 7 building across 45 acres. When using Interco, the need for a "middleman" or broker is eliminated. Interco takes deliveries of materials at its 400,000 square foot facility. The materials are then processed specifically for smelters, refineries, and manufacturers worldwide.
The mining industry relies on companies like Interco to help contribute to the urban mining industry. Without metal and electronic recyclers, billions of pounds of precious metals would be put into landfills each year. In a landfill, these metals would be useless which creates an increased need for conventional mining methods. This would also create a decreased output in goods as certain metals are no longer available. Interco
Choose Interco for Urban and Conventional Mining Recycling
Interco contributes to the mining industry through the recycle of mining scrap metals, e-scrap, and other equipment worldwide. Urban mining is the most popular form of recycling today in a world filled with reusable materials. It is usually cheaper and more efficient than standard mining. Interco also contributes to this industry through e-scrap recycling. For companies who still produce materials using standard mining techniques, Interco still recycles mining equipment and offers waste management services. Interco provides an array of service. As a result, Interco is the leading recycler for the mining industry.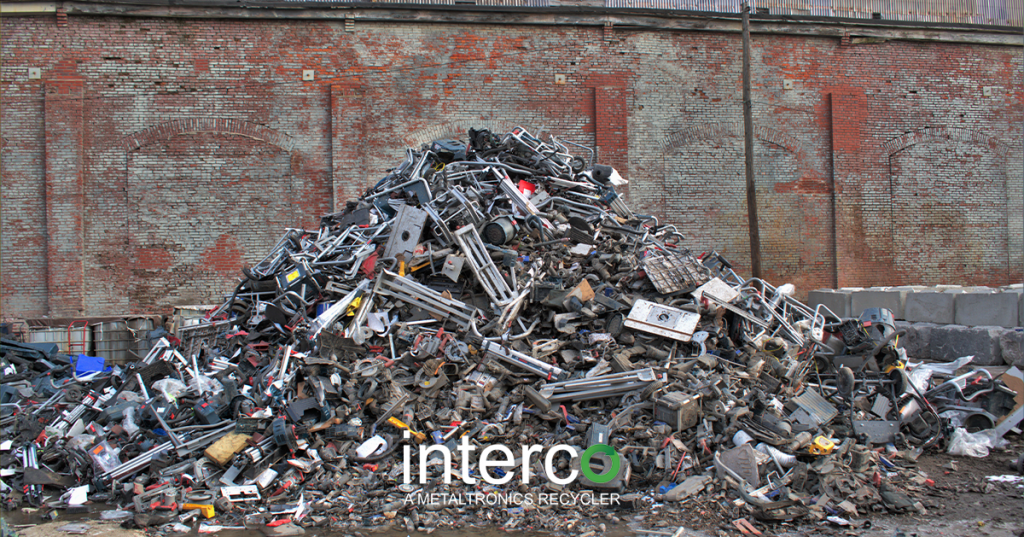 Tagged: