Interco Recycles Printers
Interco Recycles Printers
E-waste is the fastest growing waste stream in the world. Yet consumers only recycle 12.5% of all e-waste worldwide. Interco recycles printers, computers, and other e-scrap at their 45+ acre facility located on the Illinois side of St. Louis. The facility has 7 buildings across 400,000 square feet. Interco's innovative e-scrap recycling processes are certified and held to the highest standards. The Interco team has the qualifications and experience needed to recover the highest available scrap when they recycle printers. Recycling scrap printers and other electronics with Interco offers many benefits to customers.
Importance of Professional Printer Recycling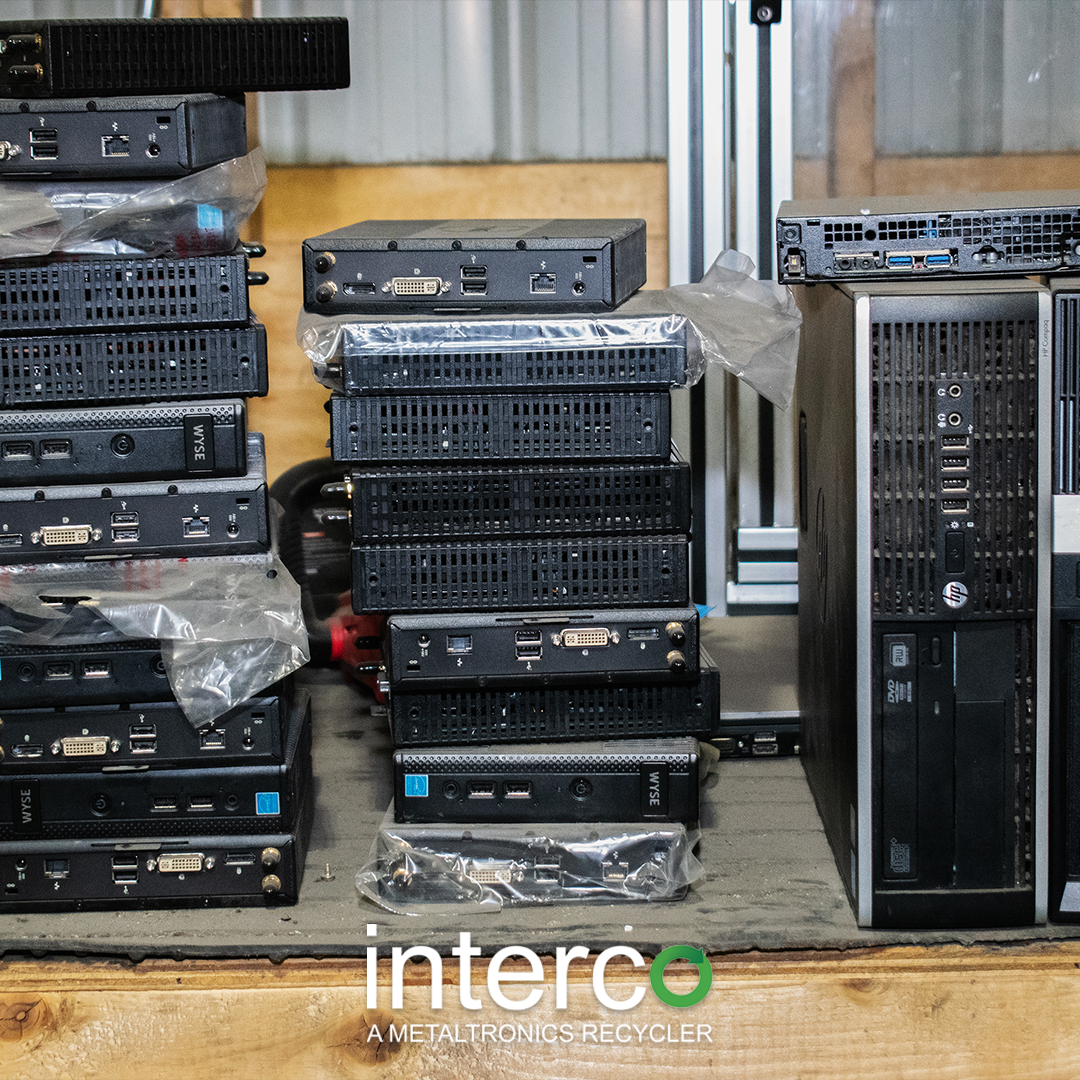 Data protection is an important consideration when it comes to e-scrap recycling, including printers. Like computers and other electronics, printers have a memory. Printer memory typically saves a record of the last several documents. Just clearing the memory of the printer doesn't guarantee that the information is gone. However, Interco offers a safe solution to recycle printers. Interco guarantees data security and prioritizes their recycling standards. In fact, Interco was the second company in the world to achieve the R2:2013 Certification. This certification assures recycling practices are secure and environmentally conscious. When looking for electronic recycling, a processing plant should responsibly handle secure materials.
Interco's E-Scrap Recycling Process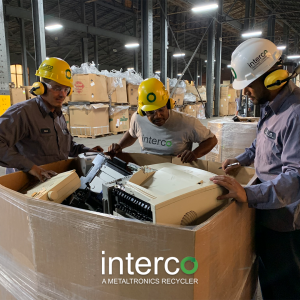 Interco's e-scrap dismantling line processes and sorts e-scrap. The e-scrap dismantling line accounts for 4 million pounds of Interco's total monthly processing amount. Interco's staff has over 150 years of combined experience in e-scrap recycling. The staff use the following steps to recycle printers:
Expert dismantling staff breaks open the casing of the printer.
Next, the individual components are separated into boxes.
The individual components are then taken to different recycling points for further processing.
Metals are quickly but accurately sorted by type and grade to provide the best value to their customers.
Any non-recyclable materials are packed and properly disposed of.
After processing of all materials is complete, Interco sells and delivers the metals to smelters and refineries around the world. These end consumers then reuse the metals in new products.
Recycle Scrap Printers with Interco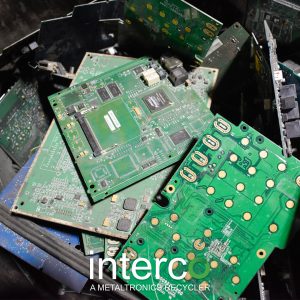 Interco recycles scrap printers, from residential and commercial settings. Recyclable materials make up nearly all types of printers. From home office inkjets to large-format printers to 3D printers, Interco buys printers and processes them for recycling. Recyclable printer parts include:
Industrial plastic in the casing and internal parts
Metal hardware holding the printer together
Circuit board and wires routing power through the mechanisms
Network components that process data and commands from other devices
Cables including power, ethernet, and USB cords
Many of these components contain valuable materials such as precious metals that can be reused in future products.
Printer Recycling Benefits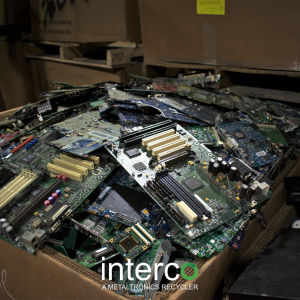 Safely recycling printers is important for several reasons. Firstly, printers contain hazardous materials. Printer components contain lead, mercury, cadmium, lithium, and other materials. These toxins will leach into the soil and water posing a threat to human health. In fact, 25 states have even made it illegal to dispose of electronics such as printers in landfills. Businesses face huge fines for illegally dumping printers.
In addition, printer recycling reduces the costs of production for future products. Recycling prevents the need to manufacture components from scratch. Electronics contain metals such as gold, silver, platinum, copper, and aluminum. The production of new goods relies of these precious metals. As a result, this eliminates the need to mine natural resources. Also, the energy needed to produce products from recycled goods is much lower than what is needed to make brand new products.
Recycle Printers with Interco
Interco has been a leader in in the e-scrap recycling industry since 1996. The facility is focused on providing new solutions, competitive pricing, and quality service to their customers. Interco's printer recycling process efficiently process valuable components that can be reused in new electronic goods. The reuse of these components lowers the overall cost of manufacturing and production of electronics. Additionally, when companies recycle scrap printers, they reduce their environmental footprint. Qualified professionals properly disposed of dangerous materials. This prevents these materials from entering landfills where they pose human health risks. Securely recycling printers is also a proactive step in the security of company data and individual identity fraud. As a result, recycling centers specializing in e-scrap are the best places to recycle old printers. Specialized centers offer professional, safe, and secure e-waste disposal making Interco the top choice.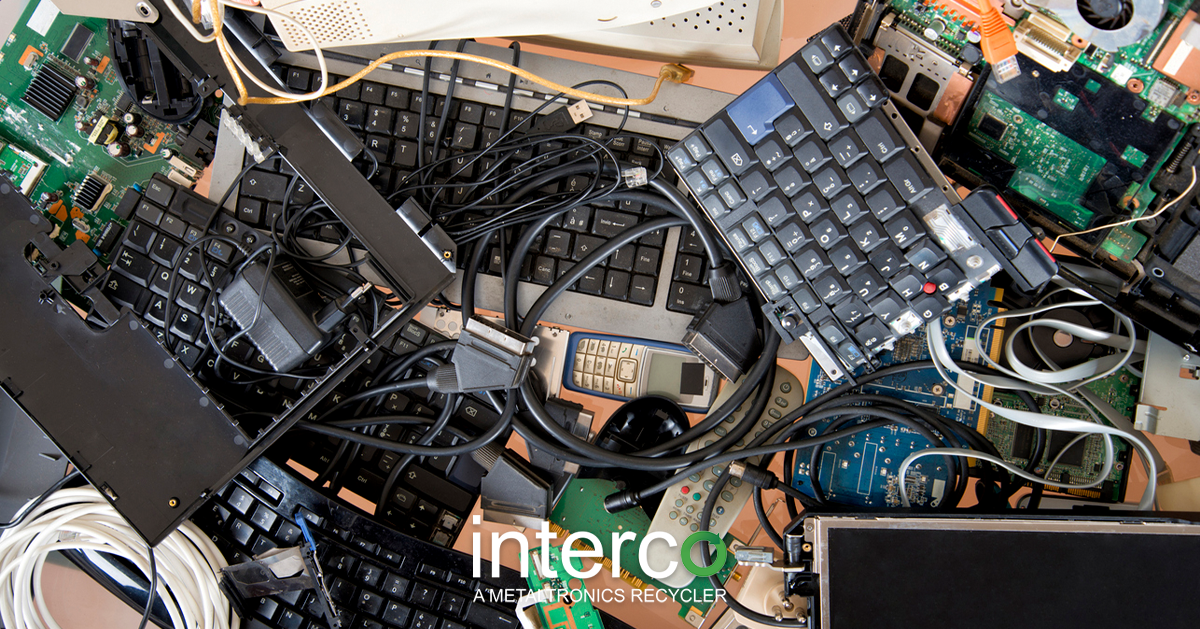 Tagged: