Interco Provides Shredding Industry Recycling Services
Interco Provides Shredding Industry Recycling Services
Interco shredding industry recycling services – specializing in the conversion of mixed scrap metals to smelter ready materials. The company works with industrial shredders to recycle decommissioned shredders. Interco also serves the shredding industry by providing a steady stream of shredder ready materials. Additionally, the Interco facility is well-equipped to handle large-scale operations to support shredding industry recycling. The facility and staff cater to both suppliers and consumers to maximize return on investment for all customers.
Interco Recycles Industrial Shredders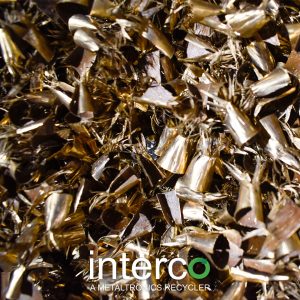 Over time industrial shredders will begin to break down and will need to be replaced. Fortunately, recycling with Interco is a profitable alternative to disposing of decommissioned shredders in a landfill. When industrial shredders are obtained, Interco uses various separation, sorting, and processing techniques to obtain the highest scrap metal value for the shredder parts. Recyclable components found in shredders include wires, circuit boards, electric motors, and more. Nonferrous metals such as copper, brass, and aluminum, are obtained and then packaged into smelter or shredder ready materials.
Interco packages these scrap metals into boxes or bales for storage and easy transport to shredding companies. Since 1996, the company has developed and expanded across the country. Delivery, pickup, full truckload, and LTL services are available. These services include proper documentation and tracking of all processed materials.
Interco Provides Shredder Ready Materials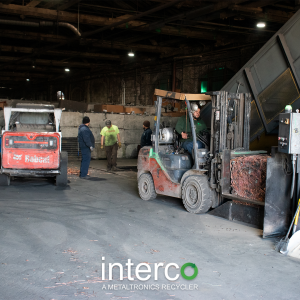 Interco specializes in producing shredder ready materials for industrial shredders. The company processes over 20 million pounds of material per month. Multiple facilities and techniques increase the value of the scrap metals sold to shredders:
Dust Separation Plant
Metallic Powder Plant
Battery Processing Plant
E-scrap Separation Line
Mechanical Separation Techniques
Magnetic Separation Techniques
Hand Separation Techniques
Pyrometallurgical Treatments
Shredding and Pre-Shredding Processes
Industrial shredders require a reliable source of high-quality materials. The commercial trading department at Interco has established contracts with suppliers and end consumers around the globe. Most shredding facilities require inbound loads weigh at least 40,000 pounds. Many recycling companies cannot generate this much, but Interco can by using contracting partners. Interco also processes over 50 mixed loads of materials per day – each load containing up to 50 items. The company can sort and store large amounts of scrap at the Interco facility. Therefore, shredders rely on Interco to provide a recurring stream of material. These contracts allow Interco to pay higher prices than other recycling companies who must search for an end consumer.
Interco Maximizes Profits for Shredders in the Purchase of Scrap Metals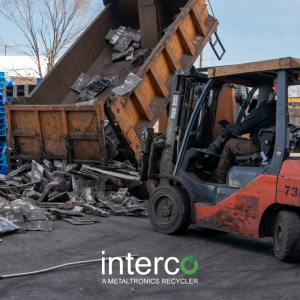 The staff at Interco has over 150 years of combined experience in sorting and grading nonferrous metals. Over 100 staff members and grading experts are dedicated to increase the scrap value for end clients. In other words, these experts ensure that shredding companies receive only the highest quality of scrap metals. The Interco staff also ensures that industrial shredders are only receiving the expected metals. Other materials can be harmful to the recycling process. For example, staff at Interco take care to remove all batteries from removable electronics prior to shredding. Shredded batteries can be dangerous for both the environment and human health.
The Interco Facility is Equipped for Large-Scale Shredding Industry Recycling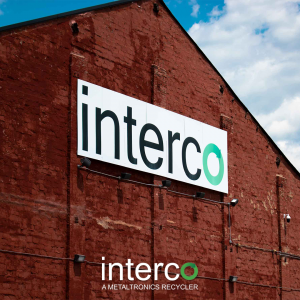 Interco recycles a large variety of scrap metals at their the 450,000+ square foot recycling facility. The Interco recycling facility is comprised of seven buildings on more than 45 acres centrally located on the Illinois-side of St. Louis in the shadows of the Gateway Arch. The facility boasts a 145,000 square foot processing plant dedicated to the processing of computers and electronics. The nonferrous metal recycling processes use the remainder of the indoor facility. It's important to note that some aspects of scrap metal recycling can be dangerous. However, the staff at Interco is highly qualified to safely recycle high-risk materials. For example, several certifications demonstrate the company's commitment to safe and secure recycling practices:
R2v3 – Responsible Recycling Standards
ISO 14001 – Environmental Management Systems
ISO 9001 – Quality Management Systems
ISO 45001 – Occupational Health and Safety Assessment Series Management Systems
Shredders Worldwide Rely on Interco
Companies around the world rely on shredding industry recycling services provided by Interco. The company is one of the largest indoor nonferrous recycling companies in America. Since industrial shredders require specific, high-quality metals, Interco employs staff with the highest levels of metal grading training. The company ships sorted, graded, and repackaged scrap metals to customers worldwide. The Interco commercial department utilizes established partnerships with end consumers in the United States, Europe, Latin America, and Asia to provide the highest return on investment to their customers. As a result, shredders all over the world rely on Interco for scrap metal recycling and the delivery of shredder-ready materials.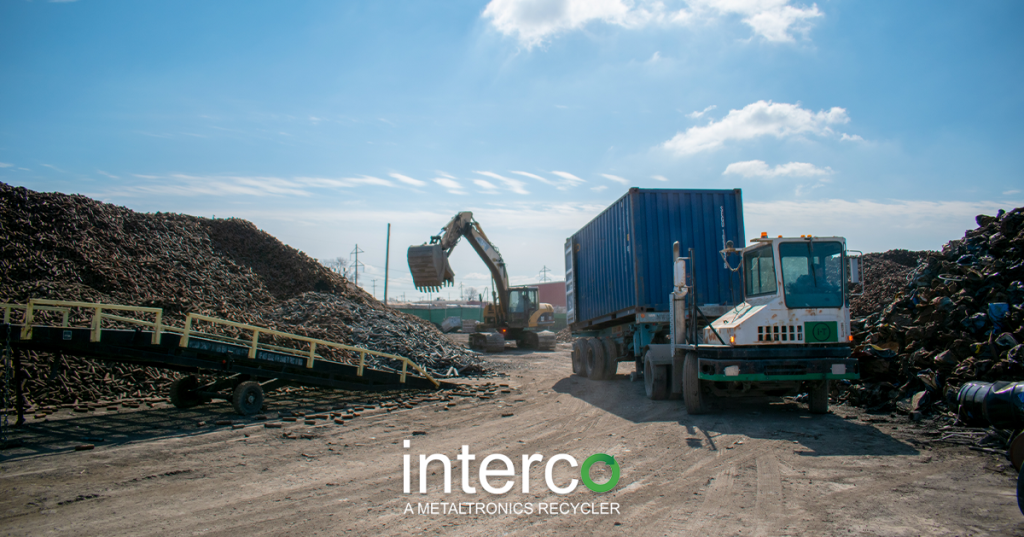 Tagged: