Interco Recycles E-Scrap
Founded in 1996 as an e-scrap recycler and processor, Interco leads the industry in e-scrap recycling. Expert staff are committed to providing the highest value for nonferrous metals and e-scrap. The facility processes over 4 million pounds of e-scrap per month. Interco recycles e-scrap including outdated equipment, laptops, cell phones and more. Recycling electronics such as cell phones conserves natural resources by keeping reusable materials out of landfills. As a result, companies around the world rely on Interco for safe and secure e-scrap recycling.
Interco was Founded to Recycle E-Scrap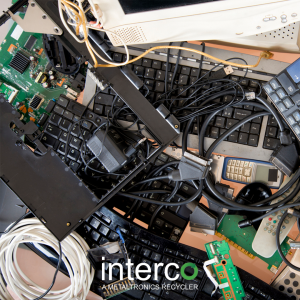 Interco was founded in 1996 as a recycling and refurbishing electronics company. The company recycles difficult to process networking equipment, lithium-ion batteries, and other e-scrap materials. The e-scrap dismantling line processes all types of e-scrap according to the following steps:
Staff breaks the casing down with a hammer or hammering mill.
The facility separates the individual components (plastic, glass, copper, and other metallic materials).
Employees take these individual components to their dedicated recycling points for further processing.
The facility packs non-recyclable materials and properly disposing of them in an efficient manner.
Interco recycles e-scrap at their the 450,000+ square foot recycling facility. The Interco recycling facility is comprised of seven buildings on more than 45 acres centrally located on the Illinois-side of St. Louis in the shadows of the Gateway Arch. The Interco recycling facility processes over 20 million pounds of material per month. The facility boasts a 145,000 square foot processing plant dedicated to the processing of computers and electronics.
Some aspects of e-scrap recycling can be dangerous. However, the staff at Interco is highly qualified to safely recycle high-risk materials. For example, several certifications demonstrate the company's commitment to safe and secure recycling practices:
R2:2013 – Responsible Recycling Standards
ISO 14001 – Environmental Management Systems
ISO 9001 – Quality Management Systems
ISO 45001 – Occupational Health and Safety Assessment Series Management Systems
Recycle Cellphones to Keep Reusable Materials out of Landfills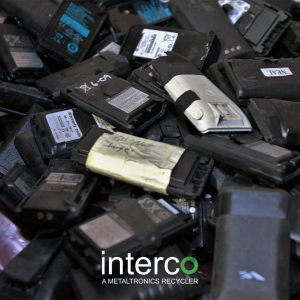 Up to 80% of a cell phone is reusable. Therefore, Interco buys, sorts, and recycles cellphones. About 350,000 cellphones are thrown into landfills each day, totaling over 150 million phones per year. One million recycled cellphones are the equivalent of:
35,274 pounds of copper
772 pounds of silver
75 pounds of gold
33 pounds of palladium
After separating and sorting the cell phone materials, Interco sells them to refineries, smelters, or back to cell phone manufacturers. In addition to reducing the need to mine for precious metals, recycling cell phones has environmental value. Interco recycles e-scrap to keep hazardous material such as lead, mercury, arsenic, and cadmium from polluting the environment.
Recycle Scrap Electronics for Maximum ROI
E-scrap contains metals such as copper, silver, gold, pallidum, and aluminum. Utilizing the e-scrap dismantling line, Interco recovers the highest possible reusable materials from telecom equipment. This line separates wire types, motherboards, batteries, printed circuit boards, and other electronic components from in telecom equipment. Following separation of items, expert staff expertly sort metals to ensure the highest quality of metal for the end consumer. Interco has more than 25 years of experience in the recycle of e-scrap.
Using recycling methods to recover valuable metals is typically more cost-effective than traditional methods. For example, recycling one ton of circuit boards can recover up to 800 times more gold and 40 times more copper than mining one ton of ore. In addition, recycled lithium-ion batteries often contain higher amount of nickel and cobalt than ore.
The Importance of E-Scrap Recycling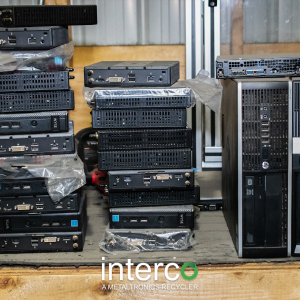 Scrap computers and electronics have various toxic and hazardous chemicals and materials. Without proper disposal, these toxic chemicals can seep into the environment. With a relatively short lifespan, electronics become e-waste at a quick pace. Millions of electronic devices such as mobile phones, TVs, computers, laptops, and tablets reach the end of their useful life every year.
Despite their valuable components, e-scrap materials often end up in landfills. Recycling e-scrap such as computers and electronics allows for recyclers like Interco to collect the valuable materials, save natural resources, reduce pollution, conserve landfill space, and create jobs.
Choose Interco to Recycle E-Scrap
Using their innovative recycling techniques, Interco can recover high amounts of reusable materials from scrap electronics. The expert staff has many years of experience sorting and dismantling e-scrap to generate the highest recover scrap value and maximize return for the company's suppliers. Therefore, companies around the world choose to recycle e-scrap with the Interco team.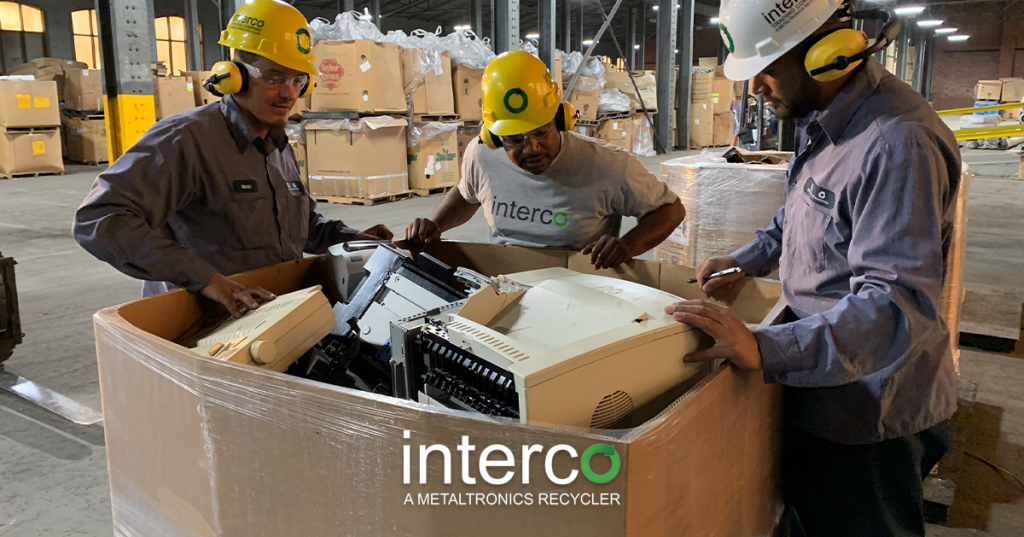 Tagged: