Interco Recycles Scrap Auto Parts
Interco Recycles Scrap Auto Parts
Interco recycles scrap auto parts as it operates one of the largest indoor nonferrous recycling facilities in North America. The company has been recycling nonferrous metals, including those found in automotive technologies, since 1996. Interco also processes more than 400 different metal alloys, electronics, and auto parts at any given time. The company uses specialized equipment and other sorting techniques to obtain the most scrap value out of the scrap automotive parts. With 100+ expert employees, nonferrous grading experts, and a large recycling facility, recycling scrap auto parts in mixed or straight loads is easy.
Interco Processes Scrap Automotive Parts on a Large-Scale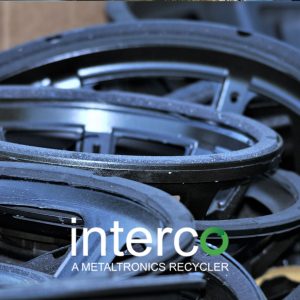 Interco remains a large volume buyer of scrap automotive parts. Unlike other recycling facilities who only process straight loads, Interco processes 50+ mixed loads of materials each day – that's approximately 1 load ever 9 minutes. As a result, Interco processes close to a quarter-billion pounds of materials every year.
Other recycling facilities may act as brokers or the "middleman." In contrast, Interco takes delivery of material at its 400,000+ square foot facility centrally located on the Illinois side of St. Louis. The facility processes these materials specifically for smelters, refineries, ingot makers, and metal mills worldwide.
The Interco team has experience sorting the different scrap automotive parts, including the following:
Aluminum wheels and wheel weights
Transmissions
Auto Radiators
Harness Wire
Auto AC Compressors
Alternators and starters
Lead-Acid Auto Batteries
Electrical Vehicle Batteries
Interco Provides a Reliable Source of Materials
Having large amounts of land and increased business is what allows Interco to recycle large amounts of scrap auto parts and provide a recurring flow of materials to end clients. Most ingot makers, smelters, and mills require an inbound load of 40,000 pounds. However, smaller recycling companies simply cannot generate enough material nor have the financial wherewithal to accumulate large amounts to satisfy the needs of the global smelting and refining market. Thus, ingot makers, smelters, and mills rely on Interco to provide a recurring stream of materials.
The Interco Commercial Department Maximizes ROI for Scrap Auto Parts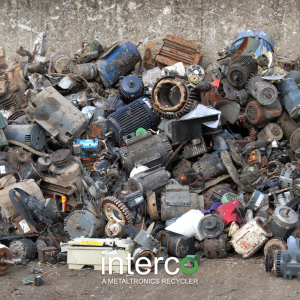 Interco can offer the best pricing on these materials by generating a consistently high volume of metals through mixed and straight loads of nonferrous scrap. Interco takes a leading position in the marketplace and provides scrap metals in specific alloys, grades, quantities, forms, and amounts to end consumers worldwide over a contracted period. Usually this amounts to a premium sale and a higher price paid by Interco to its supplier clients.
Interco understands the metal market and the trading department reacts according to pricing trends. Since the market does constantly fluctuate, it is important that the Interco commercial trading department has contracts with these smelters and refineries worldwide. This helps hedge against a quickly changing marketplace – always giving end clients fair prices for clean and quality metal. Additionally, Interco matches specific the metallurgical chemistries with the ideal end consumers. Thus, Interco can sell materials in straight loads for the best market price.
Interco Specializes in Recycling Scrap Auto Parts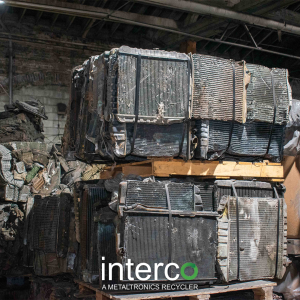 Interco specializes in the recycle of scrap auto parts – including complex materials. The expert Interco staff combined with the large facility size makes Interco a perfect choice as a partner for recycling automotive materials – including auto batteries. Interco is the largest EV battery recycler in North America, if not the world.
Interco has dismantling and separation lines, safety procedures, and certifications dedicated to process all types of automotive parts. In fact, Interco leads the way with innovative recycling solutions – as the company has for the past 25 years. The Interco recycling facility expands through new contracts, new equipment, and new recycling solutions. Interco also maintains the latest recycling certifications that provide up-to-date recycling knowledge and training. Lastly, Interco has four patents pending to improve the safety and efficiency of recycling processes. Therefore, the facility has the tools, experience, and resources needed to process scrap auto parts.
Recycling scrap auto parts includes the following steps:
Removing the metallic parts from the decommissioned automotive or unused parts stockpile.
Sorting ferrous metals from nonferrous metals – usually as easy as using a sorting line with a magnetic shaker table, conveyors, and trained recycling technicians.
Using a handheld metal analyzer or spectrometer to determine the specific metal alloy of the nonferrous metals before they can be processed.
Decontaminating and removing any other parts, attachments, or appendages that do not match the core alloy. This can be done through hand separation, mechanical separation, or by utilizing a shredder or pre-shredder.
Aggregating like metal alloys and packaging them in bags or boxes or by baling the material – depending on the requirement of the end-consumer.
Choose Interco to Recycle Scrap Auto Parts
Interco recycles scrap auto parts while offering competitive pricing and quality service throughout the supply chain. Since 1996, Interco has used innovative recycling solutions to generate the highest recoverable scrap metals. Having the highest recoverable scrap maximizes the return on investment for supplier clients looking to sell their scrap auto parts. As a further convenience, Interco sells and delivers truckloads of smelter-ready materials globally — using the 30+ van trailers. The logistics team, the administrative office, and the operations departments assist with buying, delivering, and selling scrap materials. The dedicated fleet ships nonferrous scrap to established partnerships in the United States, Europe, Latin America, and Asia.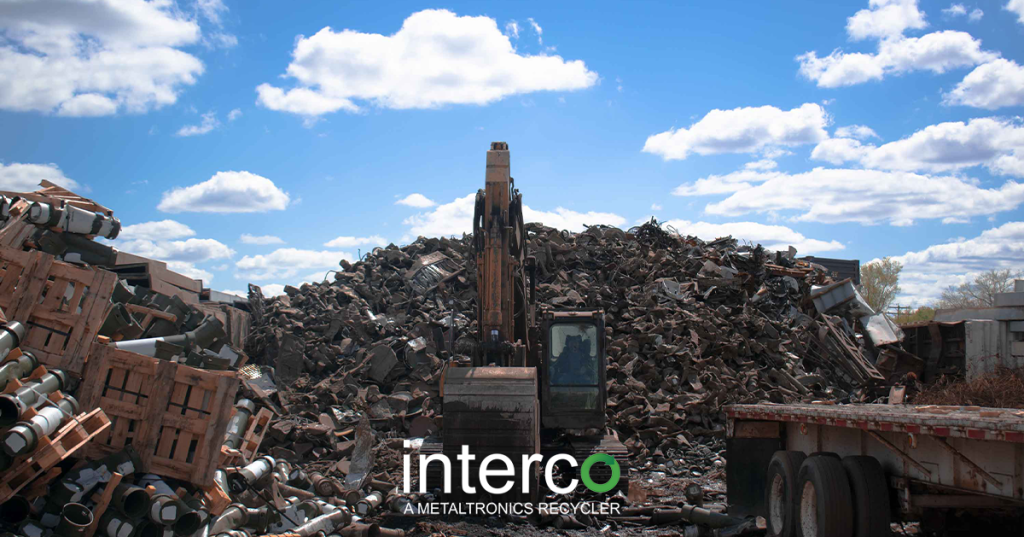 Tagged: