Where to Find a Scrap Lithium-Ion Batteries Salvage Company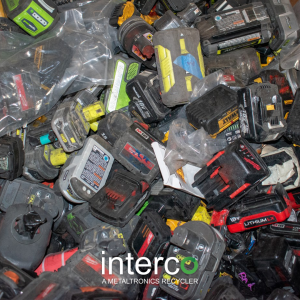 Where to Find a Scrap Lithium-Ion Batteries Salvage Company
Companies that have a surplus of scrap lithium-ion batteries may be wondering what to do with them. In fact, companies may be wondering, "where can I find a scrap lithium-ion batteries salvage company?"
A good place to start your research may be the ISRI website. The Institute of Scrap Recycling, Inc. is the voice of the recycling industry promoting safe, economically sustainable, and environmentally responsible recycling. They do this through networking, advocacy, and education. They offer a searchable directory to easily find a recycler near you.
Since manufacturers are constantly upgrading batteries to perform better and last longer, scrap piles are increasing for companies. Companies will need to make a decision on how to handle the influx of materials. The best option is working with a scrap lithium-ion batteries salvage company, like Interco, to recycle them.
Why is it Important to work with a Scrap Lithium-Ion Batteries Salvage Company?
It is important to recycle with a scrap lithium-ion batteries salvage company because these batteries contain toxic materials. The toxic materials in these batteries include nickel, cobalt, and copper. If these metals were to leak in a landfill it would have severe consequences. If these materials enter a landfill, there is a possibility that they could leak and enter the local water supply. In fact, this would negatively affect the environment and the people living in the surrounding area.
Companies that choose to recycle with a scrap lithium-ion batteries salvage company are doing their part to reduce waste, landfills, overall pollution, and the use of raw materials.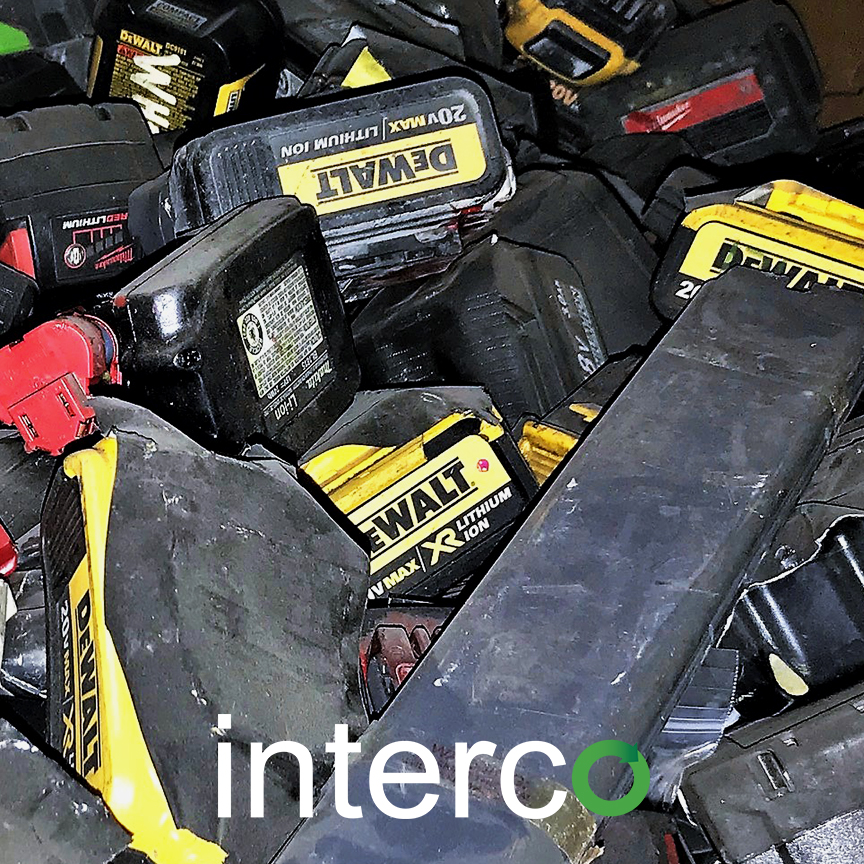 The Recycling Process
When companies work with a scrap lithium-ion batteries salvage company, about 50 percent of the battery can be recycled in an effective way. The process to recycle lithium-ion batteries is as follows:
Prior to the recycling process, companies need to deactivate the batteries.
Lithium-ion batteries are put in a specialized room that is oxygen-free.
Hydrometallurgy is the process of extracting metals from ores.
Next, the leaching process refers to the process of using aqueous solutions to extract metal from other metal bearing materials.
They separate the battery components into three different items. These items may include cobalt, steel, aluminum, copper, plastic.
As a result, they retrieve these valuable metals, and companies sell them.
Pyrometallurgy Versus Leaching
There are 2 common ways to recycle lithium-ion batteries. In fact, they are called pyrometallurgy and leaching. These are two common ways recyclers perform the recycling process.
This is the most common technique used by recyclers. Basically, the recycling process is performed by burning the batteries to remove unwanted organic materials and plastics. This method leaves a recycler with a small amount of the original material. What is usually left is the copper from current collectors and nickel or cobalt from the cathode. Smelting is common term used with pyrometallurgy. It used a furnace powered with fossils fuels to burn the batteries. This is not the best for the environment, and it loses a lot of aluminum and lithium in the process. This is the simplest method.
Hydrometallurgy or Leaching
This method involves soaking lithium-ion cells in strong acids to dissolve the metals into a solution. recyclers can recover more materials this way. This method is more challenging as recyclers must preprocess the cells to remove unwanted plastic casings and drain the charge on the battery. This increases cost and complexity.
The recycling process is everchanging as the batteries are constantly changing. Every few years batteries are updated to perform better, so the process to recycling them will soon be outdated. That is why working with a salvage company, like Interco, is so important.
About a Scrap Lithium-Ion Batteries Salvage Company
Interco is a global recycling company providing metals, computers and electronics recycling services to industrial, dealer, and government organizations throughout the western hemisphere. The facility has a 145,000 sqft. processing plant committed to the processing of computers, electronics, and batteries with the remainder of the indoor facility used for the processing of nonferrous industrial metals.
The facility has five buildings — approximately 400,000 square feet total — on more than 35 acres. The company facility has more than 20 inbound and outbound docks for receiving and shipping nonferrous scrap material as well as a railroad rail spur to load rail cars.
The company is within proximity to four major interstates (I-44, I-55, I-64, and I-70) while centrally located just across the Mississippi River from St. Louis, Missouri in Madison, Illinois. The company offers a convenient delivery location as the facility is near four major interstates (I-44, I-55, I-64, and I-70) that intersect all of the Midwest and Central USA.
Interco is a Scrap Lithium-Ion Battery Company
Overall, old battery scrap piles are increasing for companies. In fact, the best option is working the scrap lithium-ion batteries salvage company to get rid of them. Interco will work with you to satisfy any of your nonferrous metal recycling needs. To learn more, click here.
Tagged: