Reputable ISRI Lithium-Ion Batteries Recycler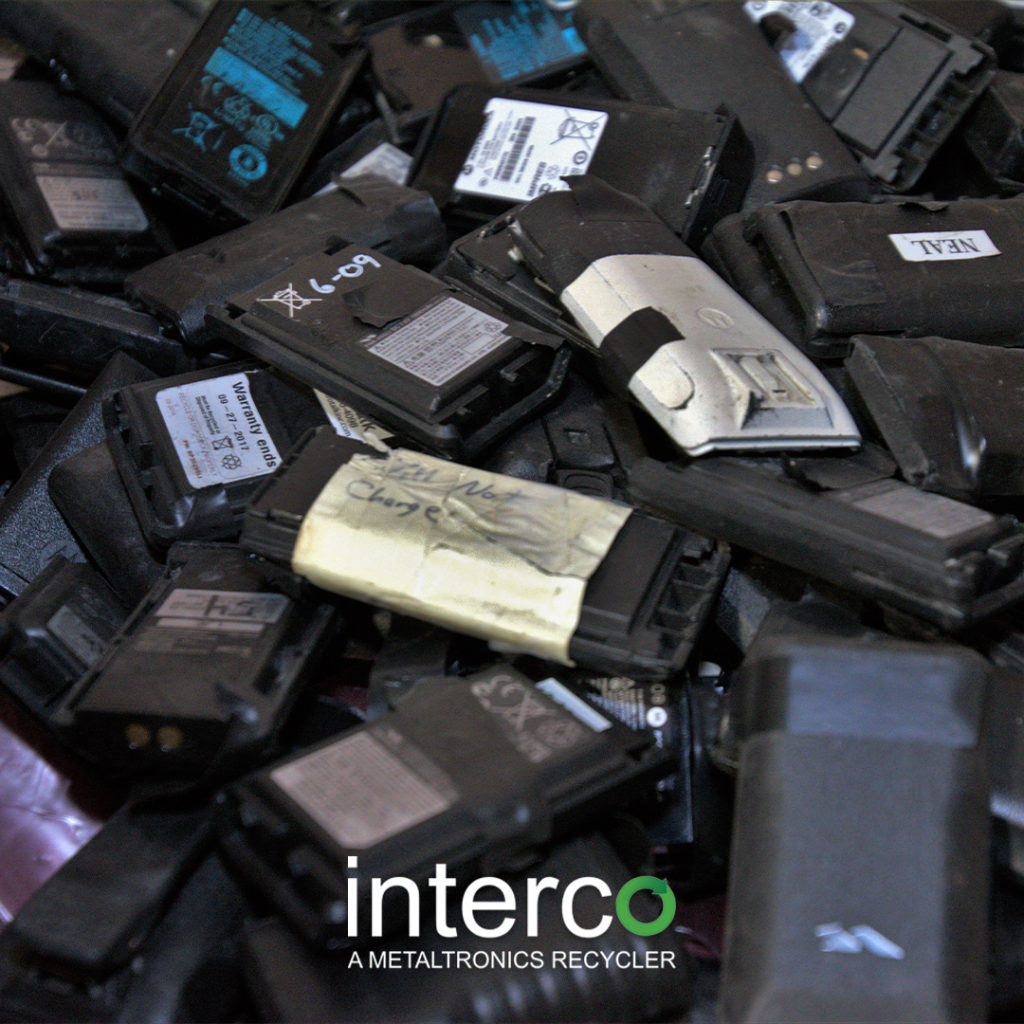 Reputable ISRI Lithium-Ion Batteries Recycler
Lithium-ion batteries are commonly used for portable electronics and electric vehicles. As the popularity of electric vehicles starts to grow explosively, so does the pile of spent lithium-ion batteries that once fueled those cars.
Battery waste continues to grow exponentially worldwide. When the waste starts to pile up, businesses often start the process of choosing a reputable ISRI lithium-ion batteries recycler.
The handling of lithium-ion batteries during the end-of-life phase of electronic products requires additional attention. While the pile of spent lithium-ion batteries once powered those cars, industry analysts predict that by 2020, China alone will generate some 500,000 metric tons of used lithium-ion batteries.
It is important to remember that your business as the generator is responsible for any waste you generate throughout its entire lifecycle, which includes picking a disposal service.
Your business will want to match your recycling needs with the services offered. Lithium-ion batteries are valuable for their use and composition. In fact, it is important that the disposal service chosen can recycle lithium-ion batteries.
Find a Reputable ISRI Lithium-Ion Batteries Recycler
Lithium-ion batteries contain rich minerals and valuable metals that allow for further manufacturing of batteries if recycled. These valuable metals and other materials can be recovered, processed, and reused.
ISRI is the nonprofit trade association that is the "Voice of the Recycling Industry." Interco has been a member of ISRI since 1996.
Lithium-ion batteries have a wide industrial and commercial use. Additionally, various metals and minerals create a lithium-ion battery. These metals, like other batteries, include:
Lithium-ion batteries are recyclable, but the process is not as easy as other electronic waste. Therefore, not all scrap lithium-ion batteries disposal services have processes for handling this type of electronic waste. Also, your business can't deal with it in the same way as you would deal with other material waste.
ISRI represents more than 1,100 private and public for-profit companies that process, broker, and industrially consume all scrap commodities. The institute offers a real-time searchable membership directory to enable member interaction and to deliver the public with recycler contact information.
The team at Interco offers services that represent the values and practices presented by ISRI. Battery users often replace their obsolete batteries after aging, overuse, or overcharging occurs.
Once this occurs, the process to recycle lithium-ion batteries becomes apparent.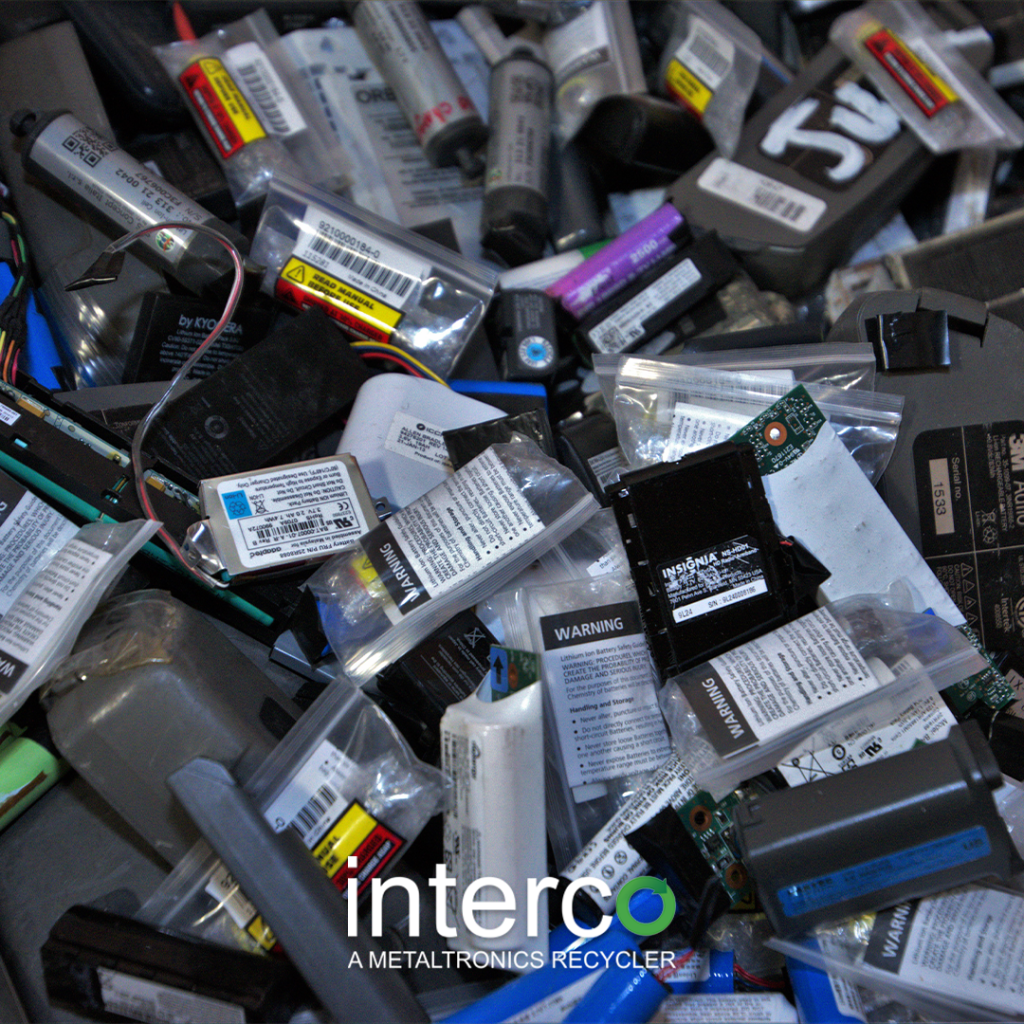 Recycling Lithium-Ion Batteries
Batteries are expensive and have a relatively short life span. As discarded batteries grow by the tonnage, a reputable ISRI lithium-ion batteries recycler transforms exhausted batteries into a valuable resource.
Recycling centers buy or sell scrap lithium-ion batteries with the goal of extracting the valuable metals from the battery. Before retrieving the metals, recyclers follow a recycling process.
Prior to the recycling process, companies need to deactivate the batteries.
Lithium-ion batteries are put in a specialized room that is oxygen-free.
Hydrometallurgy is the process of extracting metals from ores.
Next, the leaching process refers to the process of using aqueous solutions to extract metal from other metal-bearing materials.
Separate the battery components into three different items. These items may include cobalt, steel, aluminum, copper, plastic.
As a result, recyclers retrieve these valuable metals, and companies sell them.
When thrown in the company trash, batteries end up in landfills. As a result, Interco performs the recycling process for lithium-ion batteries carefully on a facility comprised of five buildings — approximately 400,000 square feet total — on more than 35 acres.
Interco, as an ISO 9001 Quality Management System certified company, continues an international-accepted uniform quality system, supplies the highest levels of customer service, and manages its material in the highest regard.
All material will be recycled by approved ISO 14001 Environmental Management and ISO 45001 Occupational Health and Safety best practices. As a result, Interco confirms the exact weights and records upon receipt, and we issue a written certificate of recycling.  
Interco Is a Reputable ISRI Lithium-Ion Batteries Recycler
Overall, Interco as a reputable ISRI lithium-ion batteries recycler will recycle lithium-ion batteries for reuse purposes. Recycling enables the recovery of valuable metals and reduces the harmful effects on the environment that improper disposal causes. Additionally, the team at Interco accepts, processes, trades, and recycles an array of nonferrous metals. Interco recycles batteries of all shapes, sizes, and chemistry. Thus, the team at Interco continues to lead the way in terms of innovative industrial recycling solutions. Consequently, to discover more about how to recycle lithium-ion batteries, click here. 
Tagged: