Interco Recycles Batteries
Interco Recycles Batteries
Interco – A Metaltronics Recycler recycles batteries of all at their centrally located facility on the Illinois side of St. Louis. The battery processing plant at Interco uses state-of-the-art recycling techniques and safety features. Interco is the largest lithium-ion battery recycler in North America, processing over 2,000 tons of recycled lithium-ion batteries per month. However, Interco recycles more than just lithium-ion batteries. With over 25 years of experience, Interco is a leader in the metaltronics recycling industry.
State-of-the-Art Battery Recycling Plant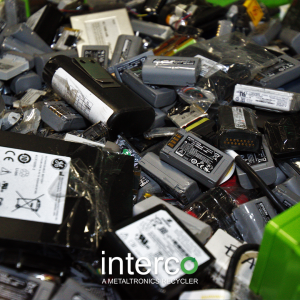 Interco's 45+ acre industrial complex is centrally located on the Illinois side of St. Louis, across the Mississippi from the Gateway Arch. The 400,000 square foot facility has 7 buildings with a designated battery processing plant. Expert staff are committed to providing the best value for automotive scrap including lithium-ion and NiMH batteries, wheels, and other auto parts. Interco's team has over 150 years of combined experience in non-ferrous metal grading. This experience allows Interco to offer competitive pricing for high quality metals.
The 40,000 square foot battery processing plant currently has four patents pending for the creation of original battery recycling techniques. The state-of-the-art battery plant has fire detection and suppression systems, as well as Environmental Health and Safety (EH&S) programs in place to ensure the safety of company staff. The EH&S programs include:
Job Hazard and PPE Program
Combustible Dust Program
Lithium-Ion Emergency Response Program
Hearing Conservation Program
Air Sampling/Respirator/Dermal Protection Programs
In addition, the staff at Interco is highly qualified to safely recycle high-risk materials such as batteries. Several certifications demonstrate the company's commitment to safe and secure recycling practices:
ISO 14001 – Environmental Management Systems
ISO 9001 – Quality Management Systems
R2:2013 – Responsible Recycling Standards
ISO 45001 – Occupational Health and Safety Management Systems
Interco Recycles Lithium-Ion Batteries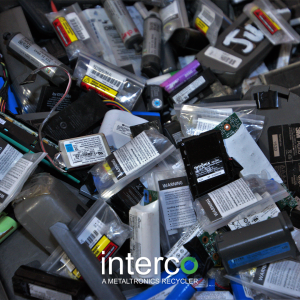 Lithium-ion batteries are highly rechargeable batteries typically found in consumer electronics such as laptops, cellphones, and more. Also, electric vehicle batteries are typically lithium-ion batteries as well. Lithium-ion batteries often contain cobalt, nickel, copper, and other precious metals.
Interco uses pyrometallurgical treatments to process large volumes of li-ion batteries and extract these metals without solid or liquid waste. This treatment process is more efficient than leaching or physical processes, resulting in higher quantities of recovered materials and better prices for our customers. To safely recycle batteries, Interco follows specific policies and procedures:
Discharging – Interco discharges battery packs, modules, and cells prior to processing.
Dismantling – Staff disassembles packs by hand. If necessary, pack are broken down to the cell level using the Module Breaker.
Inertization – The Interco team removes organic components such as plastic, electrolytes, epoxies, and glue.
Shredding – Machinery shreds the remaining components.
Metal Recovery – Interco mechanically separates nickel and cobalt powders from foil substrates.
Interco Recycles Lead-Acid Batteries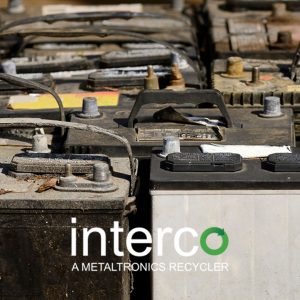 Interco recycles lead-acid batteries. Lead-acid batteries are primarily used in automobiles, motorcycles, and golf carts. Manufacturers and other industrialists also use lead-acid batteries in industrial heavy equipment and forklifts as well. Lead-acid batteries are also very reliable as backup or auxiliary power as an uninterruptible power supply (UPS) in computers, data centers, telecommunication and hospitals. Because of the reliability of these batteries, manufacturers rely on Interco to extract the maximum material value so they can produce more batteries. Firstly, Interco shreds whole batteries to sort the plastic and lead. Then staff separates and cleans the materials. Finally, Interco drains and neutralizes the acid.
The Importance of Battery Recycling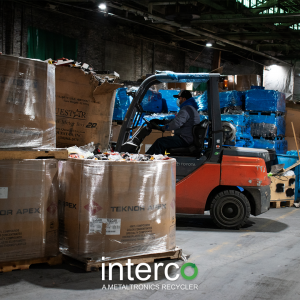 Most batteries, regardless of type, contain toxic chemicals that pose major environmental and human health risks. Cadmium, lead, lithium, and sulfuric acid can cause problems when not properly disposed of. The toxic materials can leak out of the batteries and contaminate the soil and groundwater, damage fragile ecosystems, and even make their way into the food chain. They can also short-circuit, overheat, and cause a fire.
Additionally, recycling batteries means that metals such as nickel, lithium, and cobalt can be reused in the manufacture of new goods, even new batteries. Therefore, the more batteries that are recycled, the less that must be mined.
Choose Interco to Recycle Batteries
Interco has been a leader in the metaltronics recycling industry since 1996. Their expert staff combined with Interco's impressive facility assure safe and secure battery recycling. As a result, companies all over the world choose Interco to recycle batteries of all types.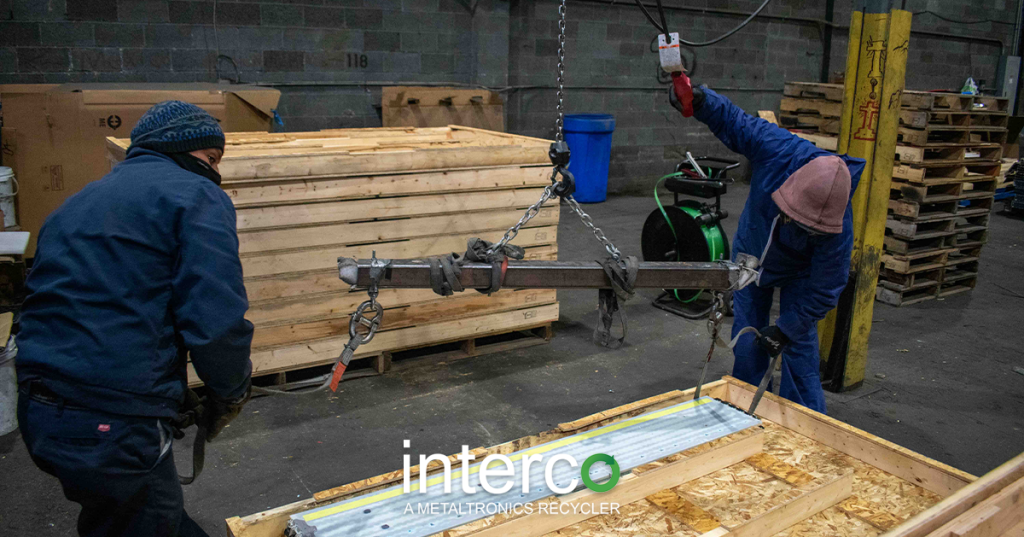 Tagged: