Interco Recycles Ammunition
Interco Recycles Ammunition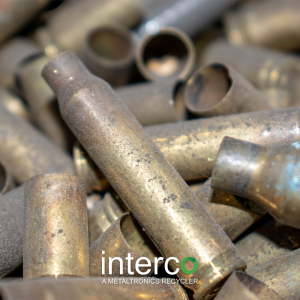 Gun ranges depend on Interco to recycle ammunition in large amounts. Founded in 1996, Interco has grown from an electronic scrap recycling company to a processor of nonferrous metals, including scrap ammunition. The Interco recycling facility buys and recycles scraps ammunition to accumulate enough metal to sell back to refineries and smelters. Interco can also sell these metals back to ammunition manufacturers – effectively reintroducing the metal back into the industry cycle. Interco staff utilize the ammo separation line to get the most scrap value out of ammunition for reselling and repurposing. Additionally, the company remains one of the largest indoor nonferrous recycling facilities in North America and is located on the Illinois side of St. Louis in Madison, Illinois.
The Interco Facility Recycles Scrap Ammunition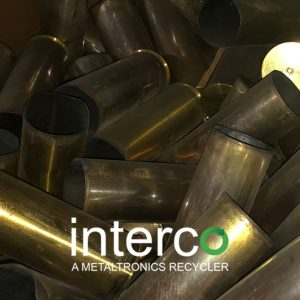 Interco buys, processes, and recycles scrap ammunition at the 450,000+ square foot recycling facility. The Interco recycling facility is comprised of seven buildings on more than 45 acres centrally located on the Illinois-side of St. Louis in the shadows of the Gateway Arch. The Interco recycling facility processes over 20 million pounds of material per month. The facility boasts a 145,000 square foot processing plant dedicated to the processing of computers and electronics. The nonferrous metal recycling processes, including the recycle of ammunition, use the remainder of the indoor facility.
Scrap ammunition is typically made with brass, aluminum, or steel – all valuable metals that can be processed and recycled. Chrome, nickel, silver, or gold sometimes coats the ammunition which then requires additional processing. Companies who accumulate large amounts of used ammunition rely on companies like Interco to recycle these metals. Gun ranges, gun stores, and ammunition manufacturers all face the issue of how to handle large amounts of used ammunition. Interco works with these organizations to buy and recycle scrap ammunition so it can be reused within the industry.
Basic components of ammunition that are recyclable include:
Interco Recycles Brass Shells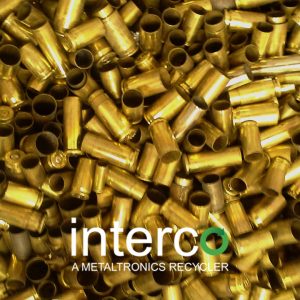 Interco recycles brass shells, cartridges, tactical munitions, and artillery shells – brass shells being the most recycled component of ammunition. While recycling brass shells can seem challenging to some facilities, Interco offers efficient recycling solutions to supplier and buyer clients. For example, employees use both hand and mechanical processes to sort the brass shells and ensure safe practices. Interco does not buy live or expired rounds due to their hazardous nature. The facility decontaminates these brass shells using the ammo separation line and then packages the leftover product into boxes for easy transport.
The Ammo Separation Line
Interco employees use the ammo separation line to decontaminate and scrap the metals found in ammunition. The facility utilizes state-of-the-art separation technology to process scrap ammunition.
The ammo separation line consists of the following steps:
Firstly, line workers sort the shells by metal type.
The shells are then cleaned to remove any impurities like lead or dirt.
The shells go through quality inspection.
Lastly, they are packaged and loaded for transport.
Interco Recycles Ammunition for Smelters and Refineries
Interco specializes in producing smelter-ready materials for smelters, foundries, and mills worldwide. The staff at Interco has over 150 years of combined experience in sorting and grading nonferrous metals. The company staff matches specific metallurgical chemistries of these ammunition metals with the ideal end consumers, therefore, increasing the payout for supplier clients.
In addition, the commercial trading department at Interco has established contracts with suppliers and end consumers around the globe. End consumers such as smelters often require inbound loads weigh at least 40,000 pounds. Many recycling companies cannot generate this much, but Interco can by using contracting partners. However, these end consumers rely on Interco to provide a recurring stream of material. Established contracts allow Interco to pay higher prices than other recycling companies who must search for an end consumer.
Gun Ranges use Interco to Recycle Ammunition
Interco has the experience and innovative recycling processes needed to efficiently recycle scrap ammunition. For example, the company recycles brass shells use the ammo separation line to sort, clean, and pack scrap ammunition for transport. As a result, the military, gun ranges, and ammunition manufacturers all rely on Interco to recycle ammunition.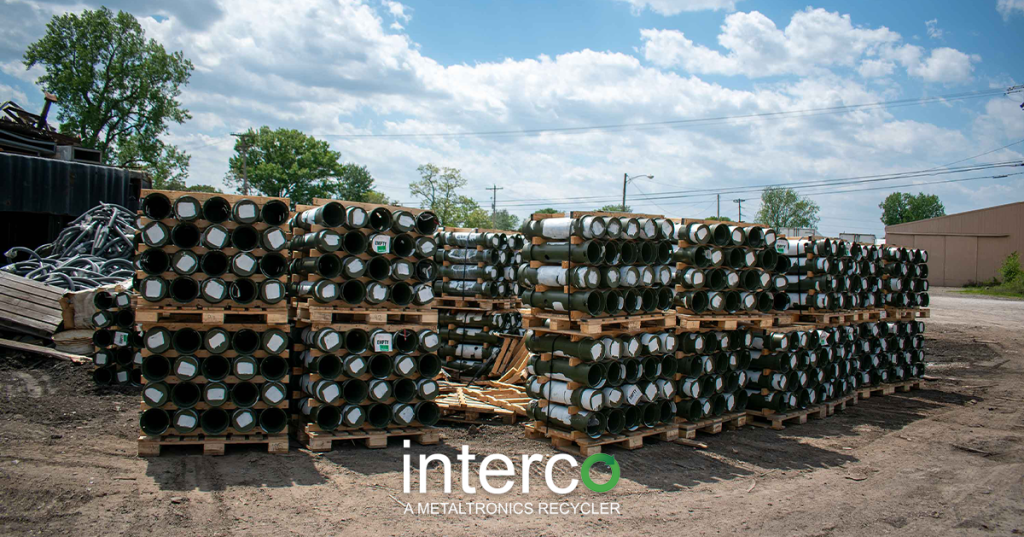 Tagged: