Reputable ISRI Brass Shells Recycler
Reputable ISRI Brass Shells Recycler
Since manufacturers are producing a large amount of scrap brass shells, scrap piles are increasing for companies. This means companies will need to make a decision on how to handle it. Many manufacturers and companies are unaware of the potential value of recycling brass shells. Therefore, working with a reputable ISRI brass shells recycler, like Interco, can actually earn your business some extra cash.
Each cartridge casing begins its life as a brass coil formed when copper and zinc, along with a few trace elements, combine to form brass. The recycling process extracts these metals to reuse and re-enter the manufacturing process. So, recycling is the most profitable way to discard brass shells.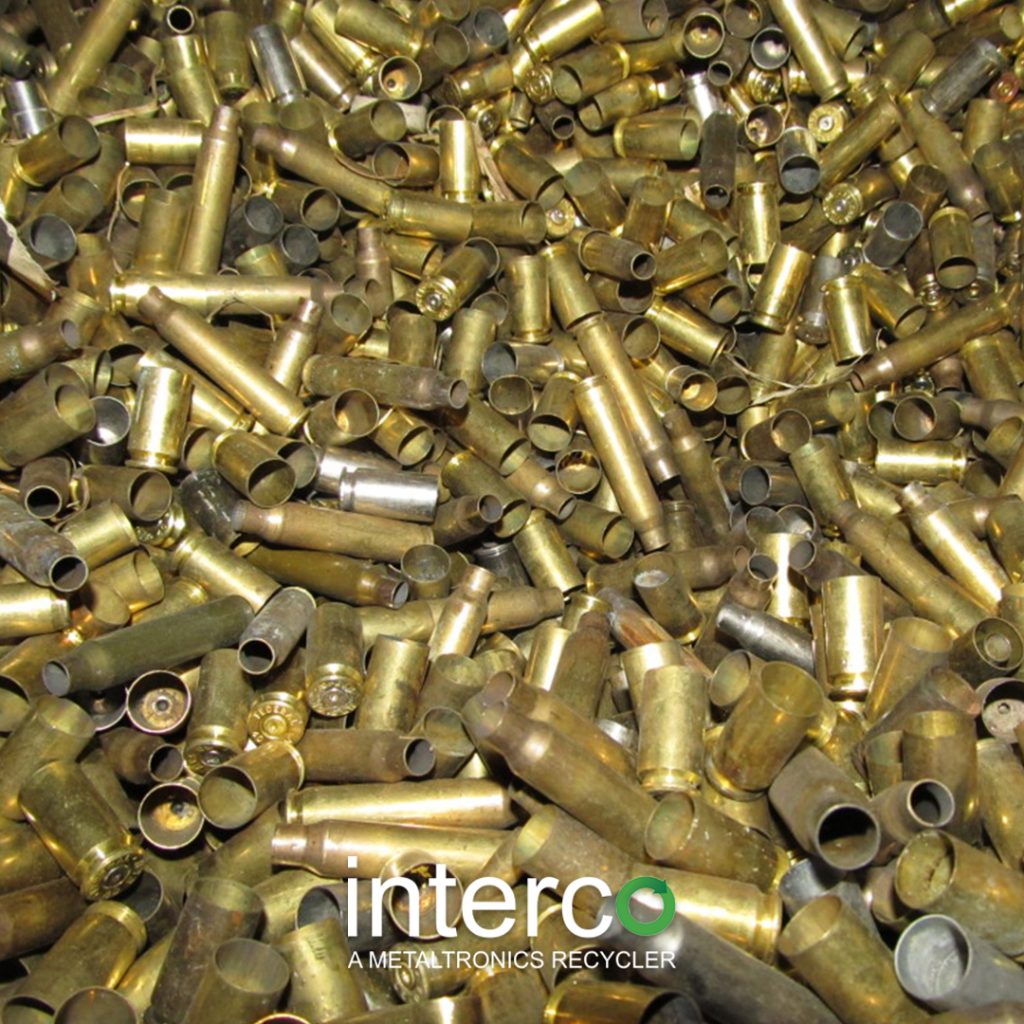 Where to find a Reputable ISRI Brass Shells Recycler
The ISRI stands for the Institute of Scrap Recycling Industries, Inc. ISRI is the nonprofit trade association that is the "Voice of the Recycling Industry." The Institute of Scrap Recycling Industries, Inc. is the voice of the recycling industry promoting safe, economically sustainable, and environmentally responsible through networking, advocacy, and education.
ISRI represents more than 1,100 private and public for-profit companies that process, broker, and industrially consume all scrap commodities. They provide a real-time searchable membership directory to facilitate member interaction and to provide the public with recycler contact information. The directory is searchable by individual, company, or commodity handled, with links to emails and company websites.
Interco has been a member of the ISRI since 1996.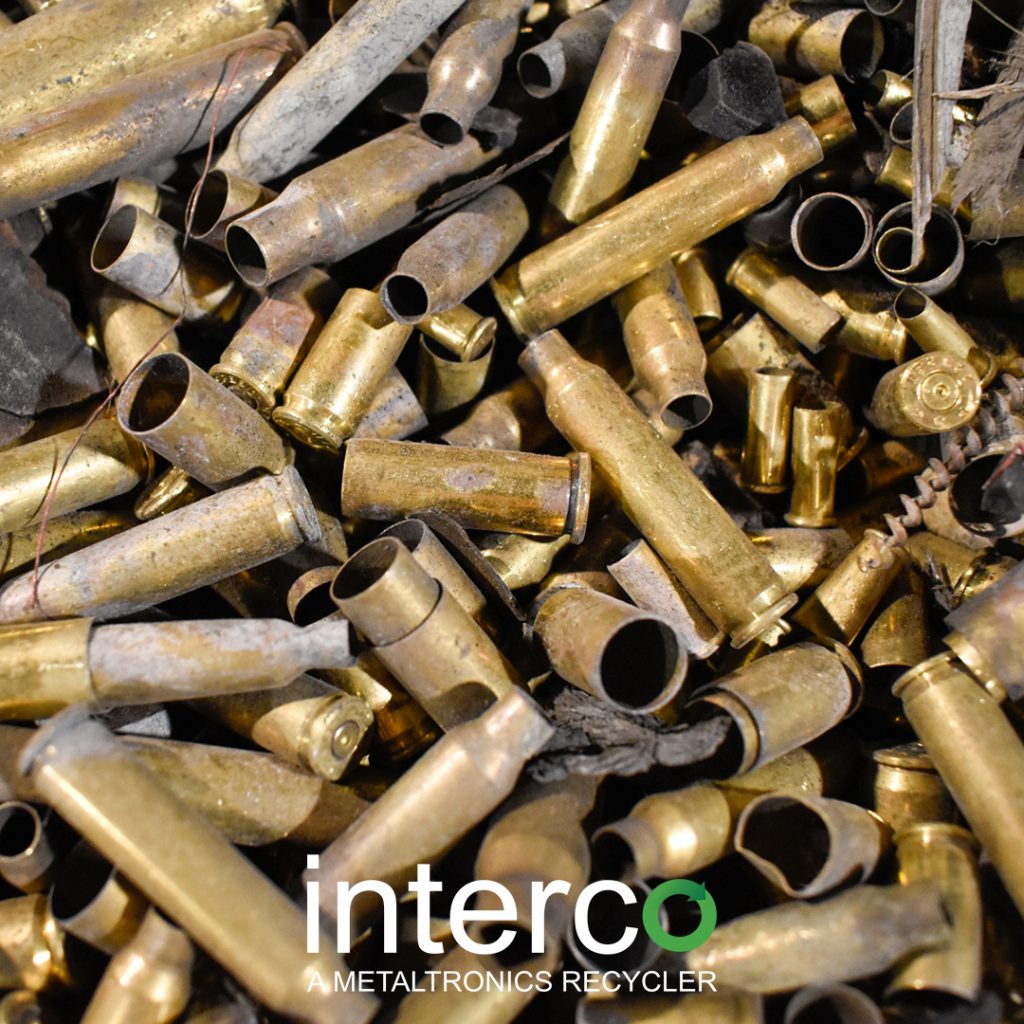 The Recycling Process
Scrap brass shells are the most popular type of recycled ammo. They are popular because of the shell casings' durability, corrosion resistance, and ease of reloading. So, when scrap brass shells start to pile up, it is important to collect and recycle with a reputable ISRI brass shells recycler.
First, you need to know the parts of the material:
The projectile
Packaging
Black powder
The groundwork
Shell alloys are usually containing brass, aluminum, or steel. Sometimes, brass shells are plated with chrome, nickel, silver, or even gold. When recycling ammo, it must be inert. You cannot recycle any live cartridges for safety reasons. After sorting the brass shells, the recycling process continues:
Removing the shell.
They pop the shells in a high-temperature kiln.
A quality control supervisor verifies the shells are ready to process.
They clean the shells to remove as much dirt and lead as possible.
Inspectors then run clean-and-popped shells through a shaker table.
Next, a hammer mill or shredder takes the shells and deforms them into smaller pieces. Aggregator machines take these pieces and load them for transportation.
Finally, they take the shells to a brass mill. They melt, combine, and mix the brass shells with metallic elements to achieve a specific blend.
To finish the recycling process, they form the brass shells into rod or ingot.
Working with a reputable ISRI brass shells recycler, guarantees proper recycling practices are in place. It also makes recycling brass shells extremely easy. Interco provides firing ranges, gun stores, ammo manufacturers, or government entities reliable and competitive pricing.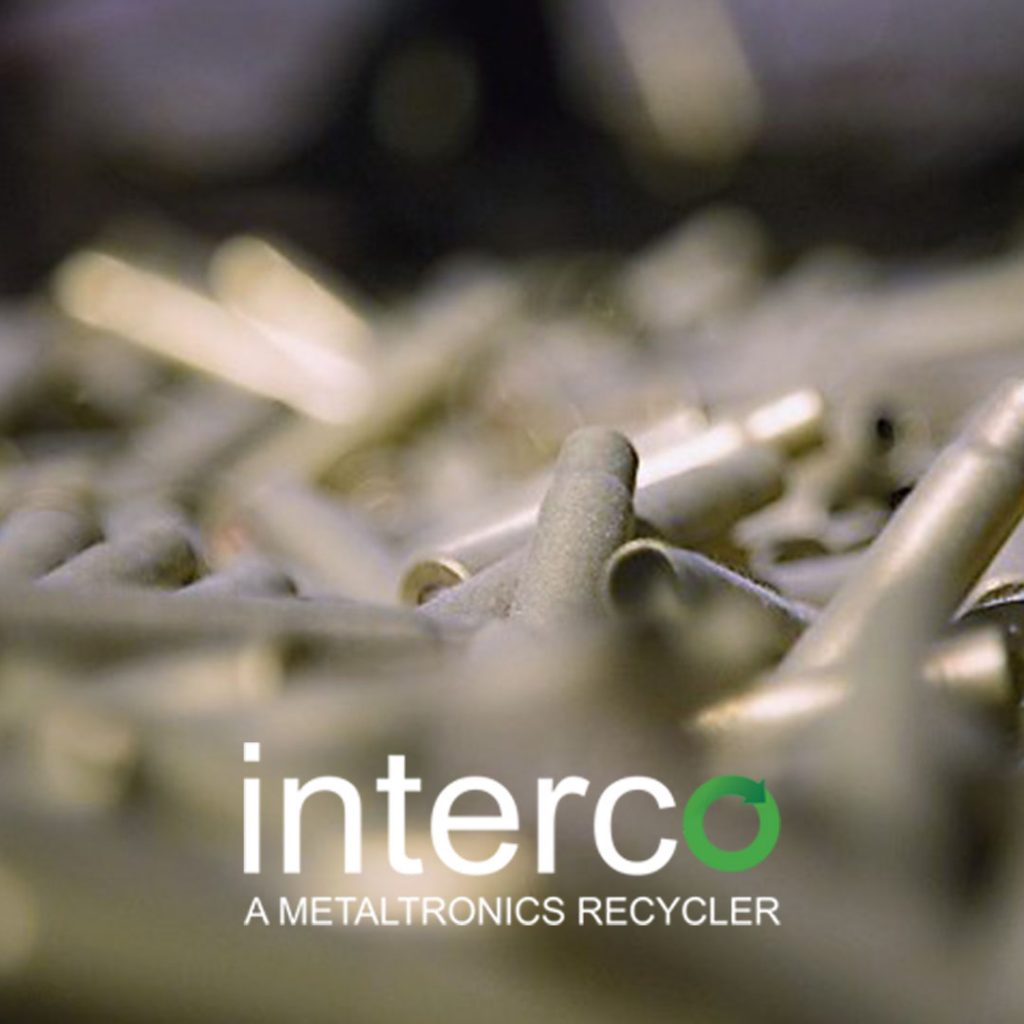 About Interco
Interco is a global recycling company providing metals, computers, and electronics recycling services to the industrial, dealer, and government organizations throughout the western hemisphere. The facility has a 145,000 sqft. processing plant committed to the processing of computers, electronics, and batteries with the remainder of the indoor facility used for the processing of nonferrous industrial metals.
The facility is comprised of five buildings — approximately 400,000 square feet total — on more than 35 acres. The company facility has more than 20 inbound and outbound docks for receiving and shipping nonferrous scrap material as well as a railroad rail spur to load rail cars.
The company is within proximity to four major interstates (I-44, I-55, I-64, and I-70) while centrally located just across the Mississippi River from St. Louis, Missouri in Madison, Illinois. The company offers a convenient delivery location as the facility is near four major interstates (I-44, I-55, I-64, and I-70) that intersect all of the Midwest and Central USA.
Interco is a Reputable ISRI Brass Shells Recycler
Scrap piles of brass shells are piling up for companies. Companies will need to make a decision on how to handle it. Working with a reputable ISRI brass shells recycler, like Interco, makes it easy. Companies that decide to recycle their brass shells are doing their part to reduce landfills, waste, overall pollution, and the use of raw materials. Interco will work with you to satisfy any of your ammunition recycling needs. In fact, Interco continues to lead the way in innovative industrial recycling solutions. To learn more about the services offered, click here.
Tagged: