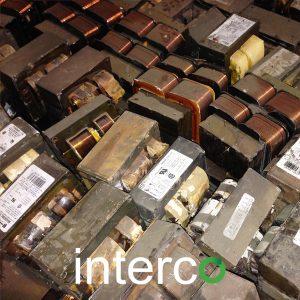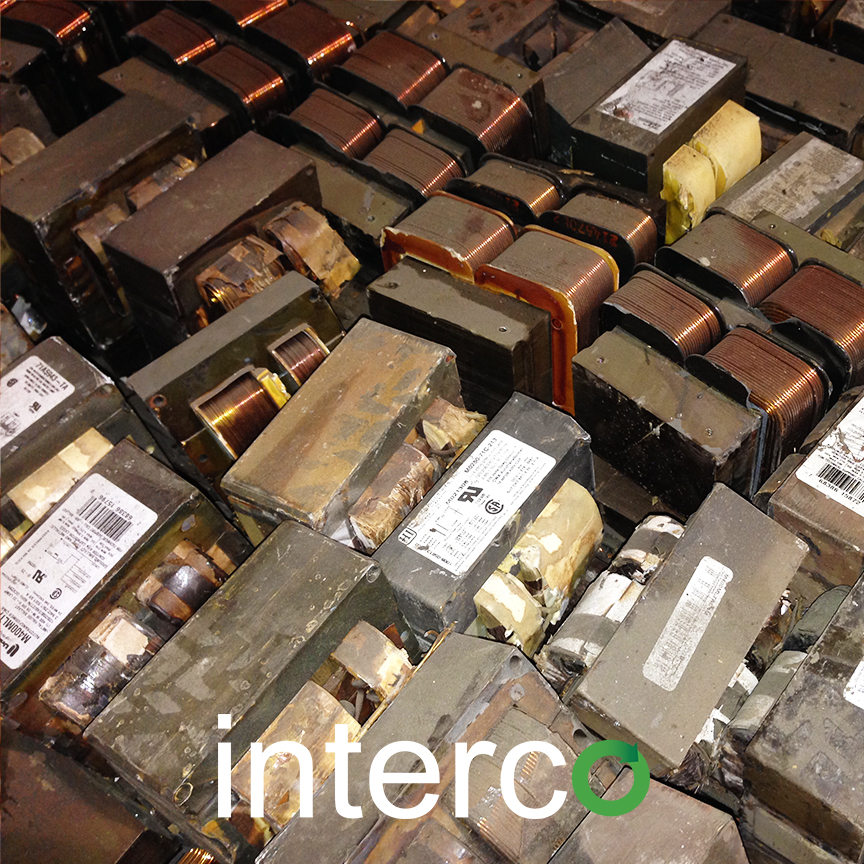 Companies that have a surplus or just a few scrap transformers, will eventually need to get rid of them. Companies will not need to worry about this all the time as transformers have a life expectancy of 30 to 50 years. There are a few options when it comes to dealing with old scrap transformers, but the best option is to sell them. So, companies that have a large amount of transformers may need to research the best prices for scrap transformers.
Many companies do not realize the potential value of recycling transformers. Working with a recycling center, like Interco, can actually help your company earn some extra cash.
What are My Options?
There are a few options when it comes to getting rid of transformers:
Throw them away. Throwing away transformers is extremely dangerous and not recommended. If a company throws away a transformer, the toxic material inside could potentially leak in the landfill. It could also accidentally enter our drinking water. This would cause more problems, not just for the environment, but also the people who live in the surrounding area. The chemical inside a transformer is called polychlorinated biphenyls. This chemical is known to cause cancer in humans. So, companies should not throw away their transformers.
Store them. If your company is having a hard time figuring out what to do with your transformer, just store them in your facility. This also not recommended as this would cost the company time and money.
Lastly, work with a recycling center. Companies should look for the best prices for scrap transformers and sell them to the recycling center to recycle. This is recommended as it has a number of benefits. Companies that choose to recycle are doing their part to reduce landfills, waste and overall pollution.
What Factors Influence the Best Prices for Scrap Transformers?
When companies are looking for the best prices for scrap transformers, the biggest factors affecting the value is the weight and whether the material is contaminated. Usually, transformers arrive to the facility on pallets, but sometimes they come in dump trucks. No matter how they come to the facility, Interco pays for the net weight of the material. You calculate the net weight by deducing the tare weight from the gross weight.
If the material comes already separated, an expert will go through the bin to make sure there are no contaminants. Here is a list of what could be considered contaminants:
If there are contaminants, this severely affects the weight of the material and makes it harder to reintroduce the materials back into the manufacturing process. This will decrease the price of the material.
About Interco
Interco is a global recycling company providing metals, computers and electronics recycling services to industrial, dealer, and government organizations throughout the western hemisphere. The facility has a 145,000 sqft. processing plant committed to the processing of computers, electronics, and batteries with the remainder of the indoor facility used for the processing of nonferrous industrial metals.
The facility has five buildings — approximately 400,000 square feet total — on more than 35 acres. The company facility has more than 20 inbound and outbound docks for receiving and shipping nonferrous scrap material as well as a railroad rail spur to load rail cars.
The company is within proximity to four major interstates (I-44, I-55, I-64, and I-70) while centrally located just across the Mississippi River from St. Louis, Missouri in Madison, Illinois. The company offers a convenient delivery location as the facility is near four major interstates (I-44, I-55, I-64, and I-70) that intersect all of the Midwest and Central USA.
Established in 1996, Interco has grown to prominence as one of the most reputable recyclers of nonferrous scrap in the United States. The company is experiencing significant market position growth due to a number of factors that suggest steady acceleration for years to come.
Conclusion
Overall, companies will eventually need to dispose of old transformers. Working with a recycling center, like Interco, is the best option to get the best prices for scrap transformers. Interco will work with you to satisfy any of your nonferrous scrap metal and eScrap recycling needs. Interco purchases scrap anywhere in North America for recycling. The company continues to lead the way in terms of innovative industrial recycling solutions. The company offers delivery, pickup, full truckload, and LTL services. To learn more, click here.