6 Types of Batteries that are Recyclable
Companies often rely on batteries to power day-to-day operations. In fact, the global battery market is about $50 billion US, of which roughly $5.5 billion is allocated to rechargeable (secondary) batteries.
Battery users typically replace their obsolete or spent batteries after aging, overuse, or overcharging occurs. Most commonly, these batteries are thrown in the company's trash then later found in a landfill.
Interco recycles batteries of all shapes, sizes, and chemistry. Despite the potential recycling value, battery users are often unaware of the proper ways to dispose of a battery. So, when considering disposal methods, it is important first to know what kind of battery your company is disposing of.
Batteries to Buy or Sell at a Recycling Center
Battery manufacturers produce several types of batteries. The most important step to support the safe disposal of scrap or expired batteries is to sort them by type. Each battery chemistry has a different process for recycling and disposal and mixing them can be dangerous. With systems in place to recycle or otherwise safely dispose of batteries, Interco provides a secure and lucrative recycling process.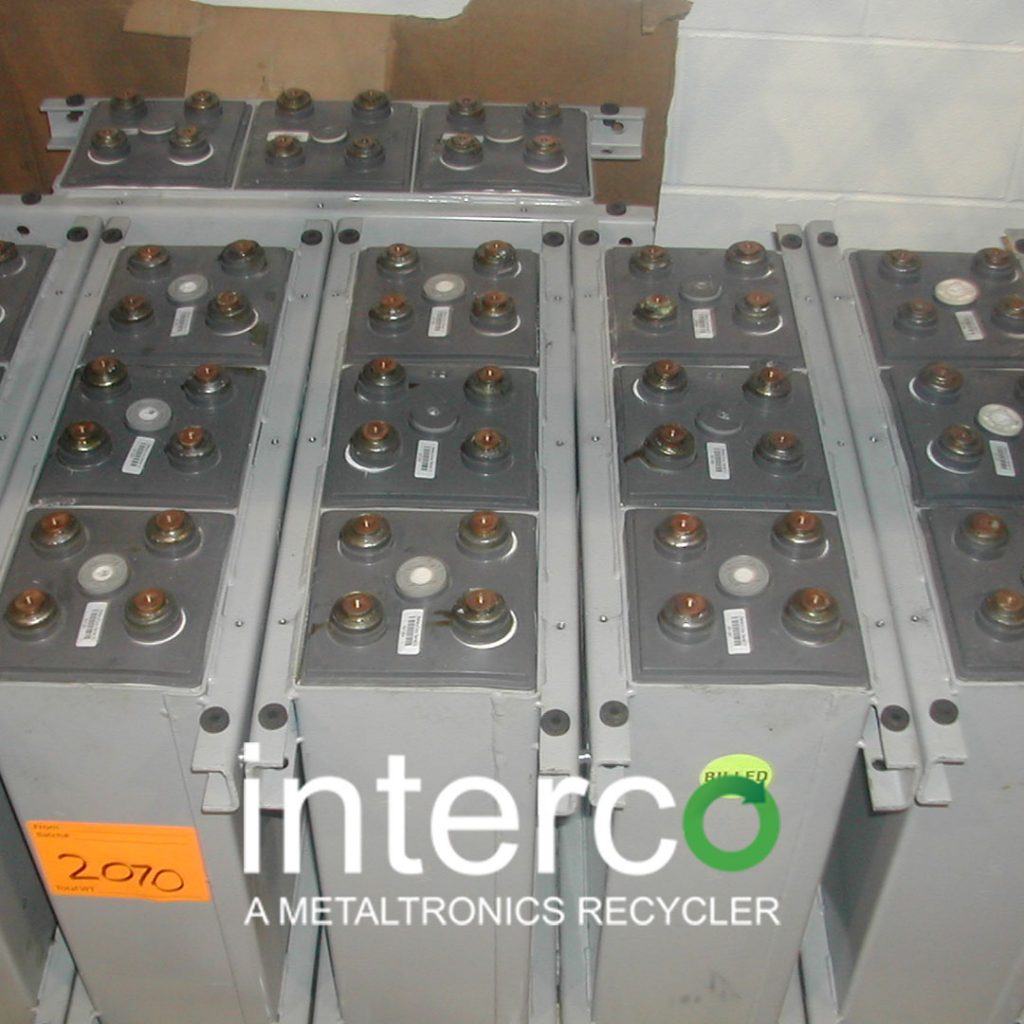 1. Absolyte Batteries
Interco recycles Absolyte batteries. These batteries are often used in cell phone backups and could sometimes have a negative chargeback for recycling these properly. The Absolyte sealed battery provides industrial quality, high capacity, sealed maintenance-free battery. The design of the battery itself enables longevity and cycling. These batteries contain acid, lead, copper, steel outside cases, and are generally housed in steel cases. Absolyte batteries can enter the recycling process, which best fit for professional recyclers.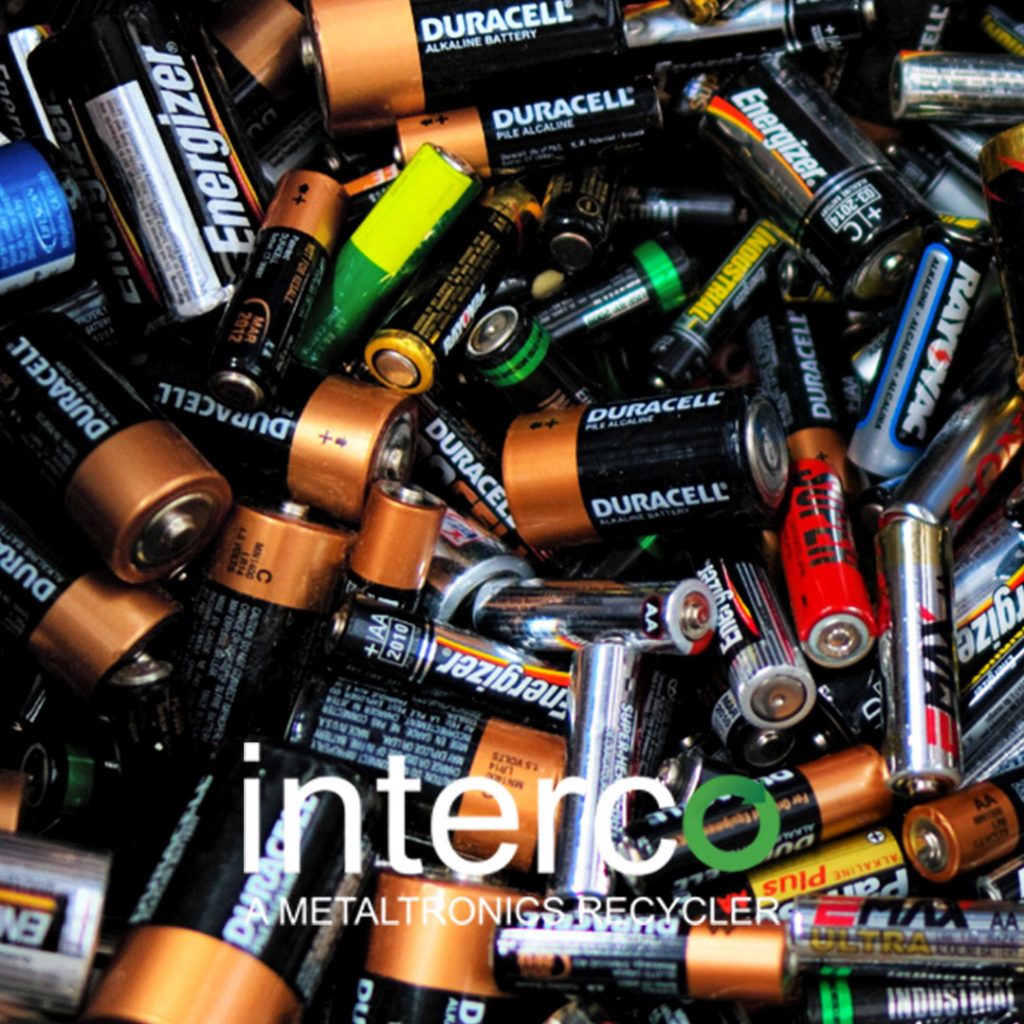 2. Alkaline Batteries
Interco recycles Alkaline batteries. Alkaline batteries are the most common household batteries typically used in everyday handheld devices. These devices can include Bluetooth keyboards and mice, children toys, tv remotes, smoke detectors, some digital cameras, and more. These batteries contain zinc and manganese; thus, the retrieval process can be costly. Even though it is the most common household battery, because of the chemistry in alkaline, there is little to no monetary value, so there's generally a charge to recycle this type of battery.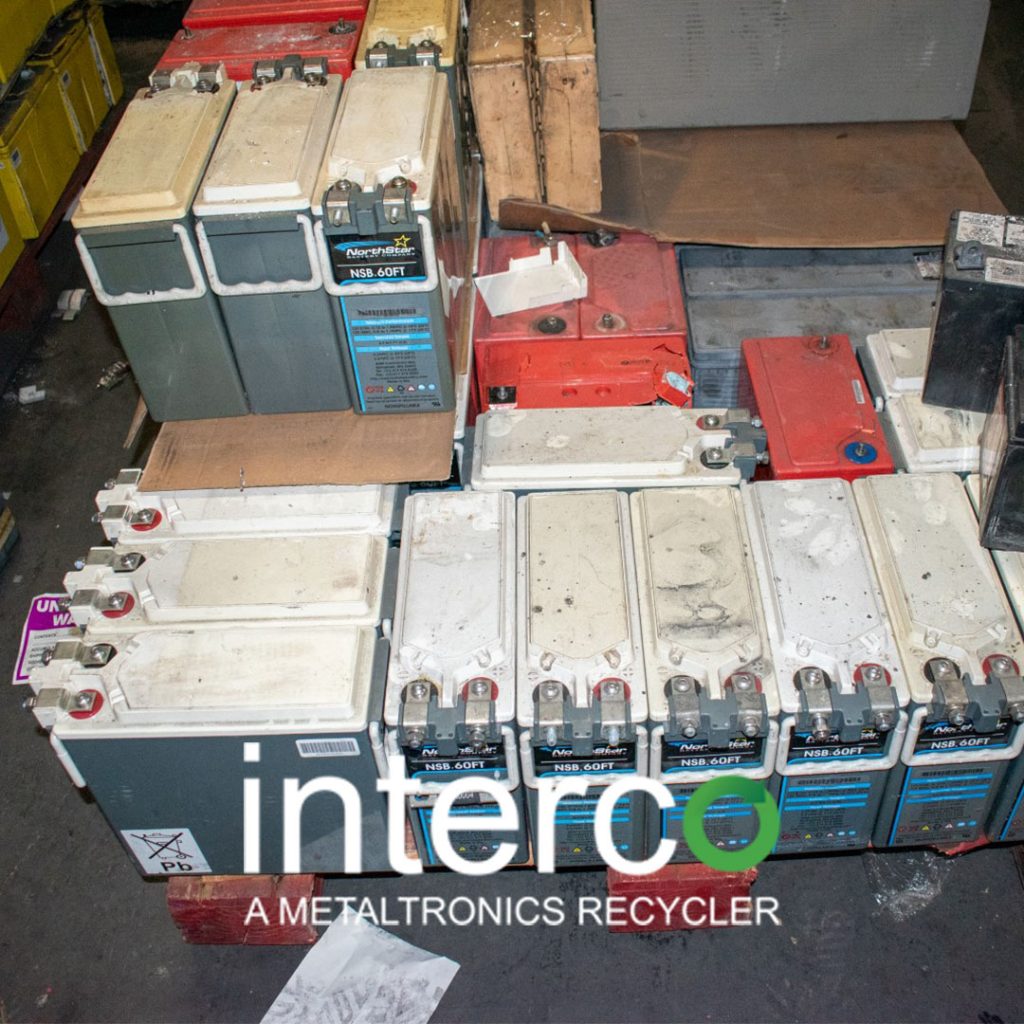 3. Lead Acid Batteries
Interco recycles lead-acid batteries. There are two types of lead-acid batteries: starting batteries and deep-cycle batteries. A starting battery quickly delivers a large burst of power to help an engine start. A deep-cycle battery delivers a continuous low level of power to help an engine keep operating. These batteries, that are widely used in the automotive industry, can cause environmental problems if not recycled properly. Lead-acid batteries contain large quantities of lead and sulfuric acid, therefore requiring a safe disposal method.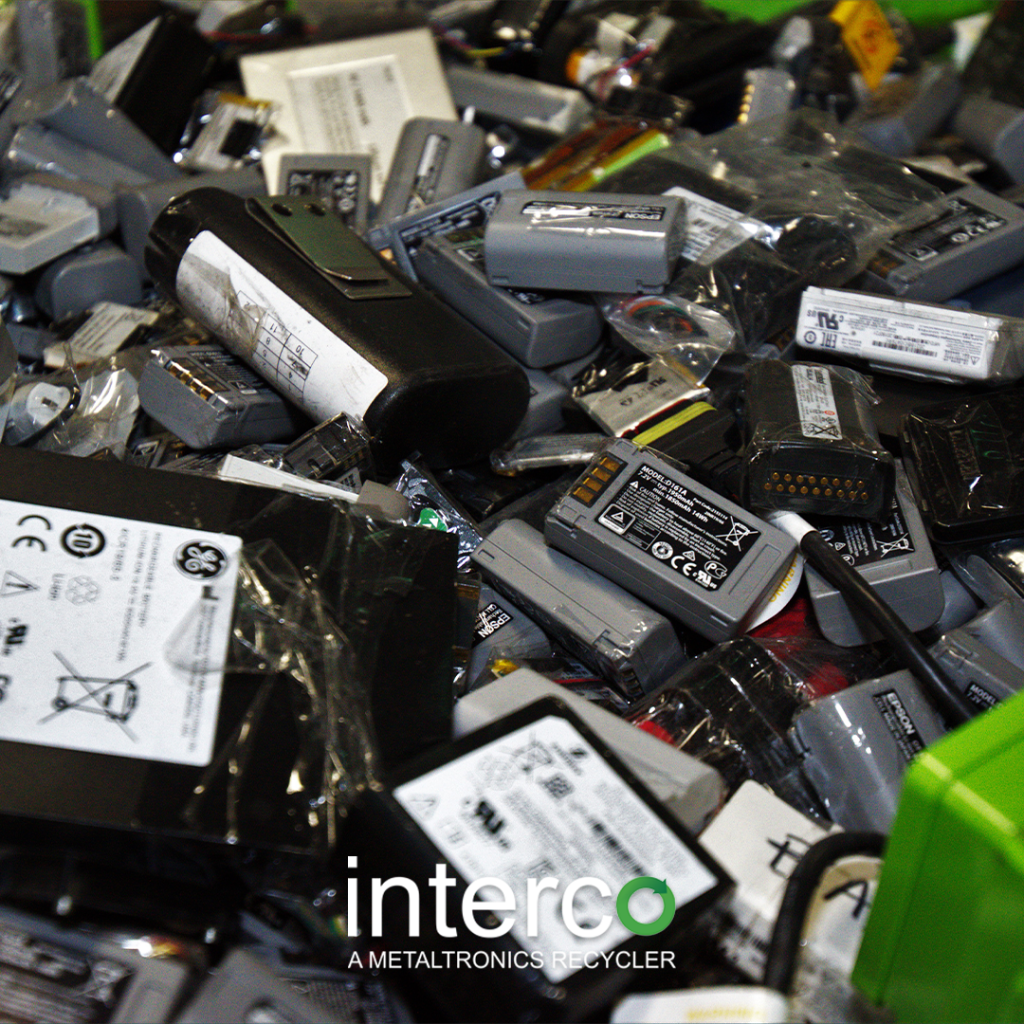 4. Lithium-Ion Batteries
Interco recycles lithium-ion batteries. Lithium-ion batteries contain rich minerals and valuable metals like cobalt, nickel, and copper that allow for further manufacturing if recycled. They are not only used for small household devices, but also used as batteries for electric vehicles. Interco just so happens to be the largest EV battery recycler in North America. That is because valuable metals and other materials from lithium-ion batteries can be recovered, processed, and reused. Furthermore, the recycling process of lithium-ion batteries converts almost everything back into usable raw material.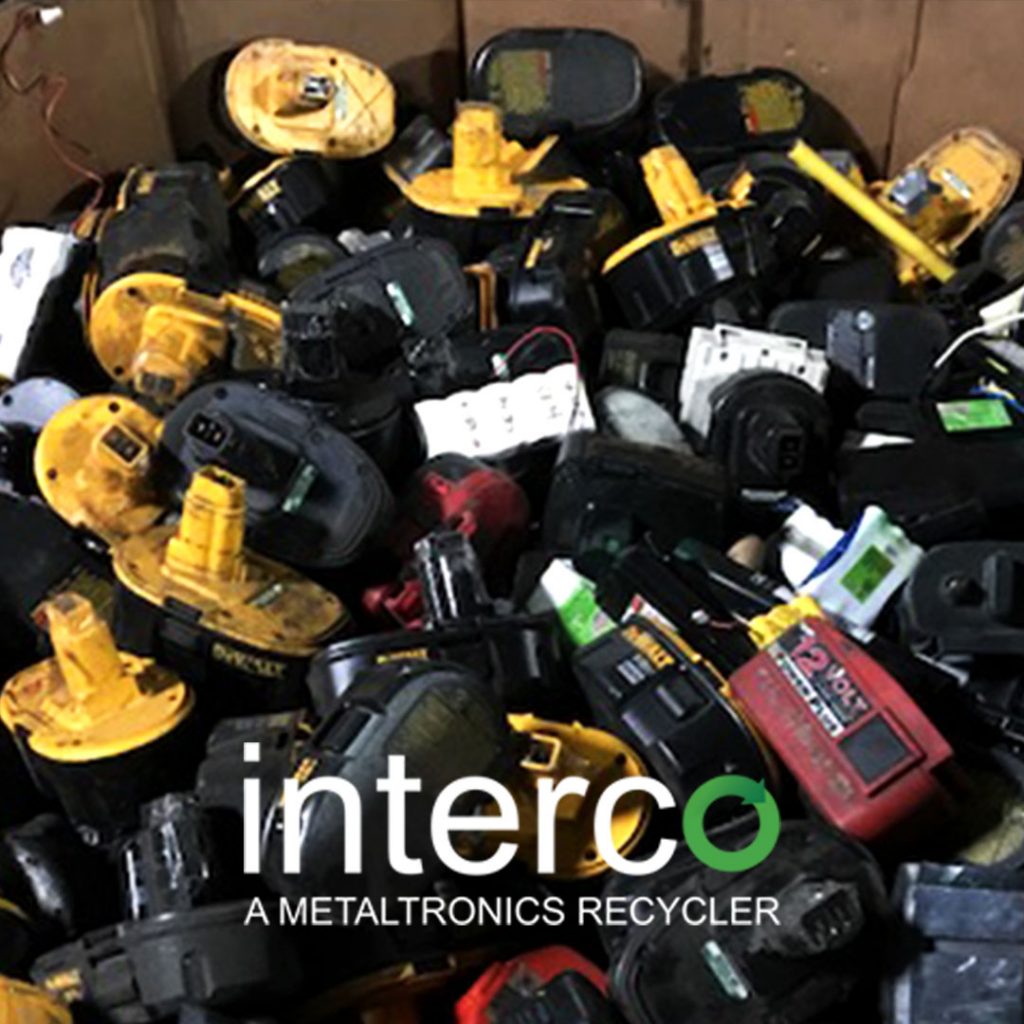 5. Nickel-Cadmium (NiCad) Batteries
Interco recycles nickel-cadmium batteries. NiCad batteries are widely in use for medical devices, alarm systems and emergency lighting, and power tools. These batteries are virtually 100% recyclable once they have been collected. In fact, cadmium is a toxic heavy material that can cause harm to the environment. Therefore, it is important to work with a trusted professional battery recycling company to ensure that proper care is taken during battery disposal. Companies who are looking to recycle these batteries should look for a company who ensures safe recycling processes.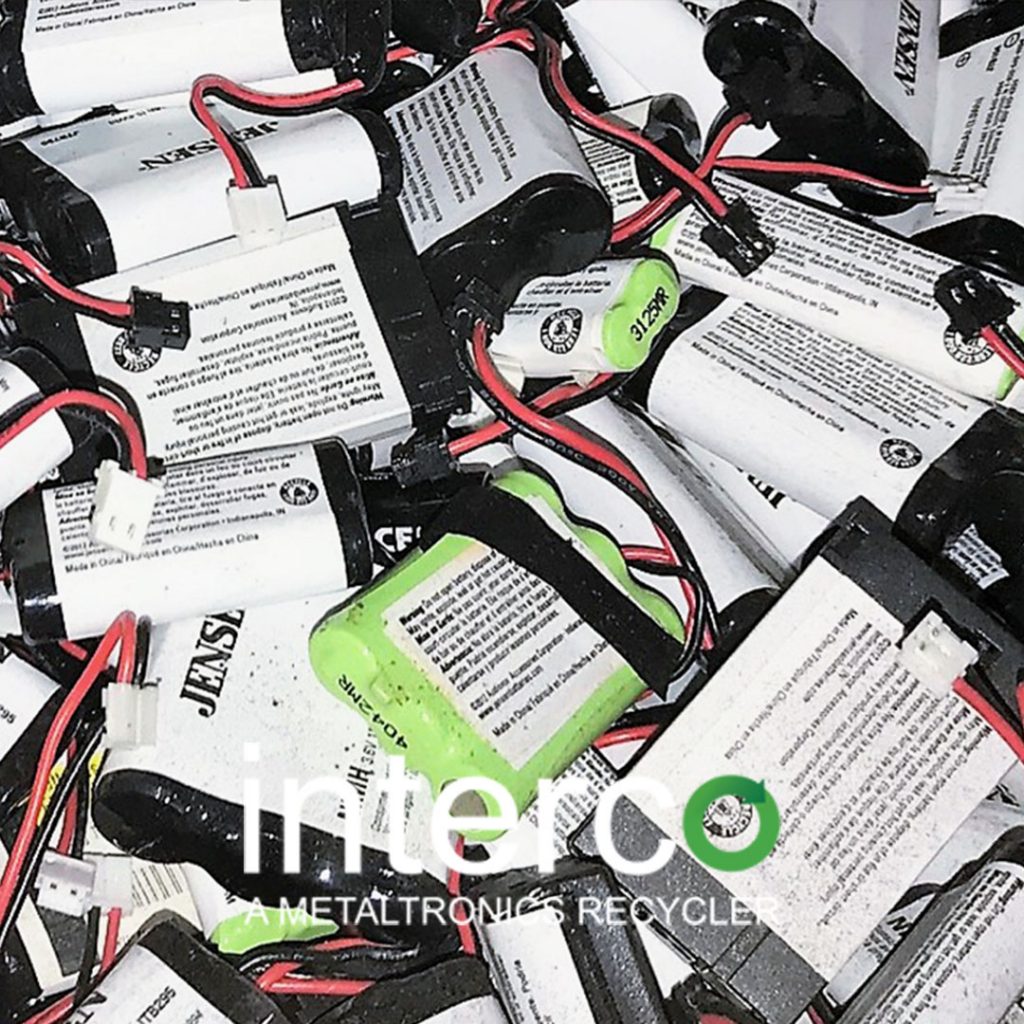 6. Nickel-Metal Hydride (NiMh) Batteries
Interco recycles nickel-metal hydride batteries. NiMH batteries utilize a combination of nickel and hydrogen. The batteries are often used in consumer goods and electronics, newer digital cameras, and other high-drain devices. Interco recycles NiMH batteries mainly to recover the nickel content.
When thrown in the company waste stream, batteries end up in landfills. As a result, Interco performs the recycling process for lithium-ion batteries carefully on a facility comprised of five buildings — approximately 400,000 square feet total — on more than 35 acres. Consequently, companies should recycle batteries for several reasons. In fact, recycling batteries helps the environment by keeping hazardous material out of landfills and reduces the need to mine elemental metals for industrial production needs.
Interco Recycles Many Types of Batteries
Overall, Interco will recycle various types of batteries for reuse purposes. Recycling enables the recovery of valuable metals and reduces the harmful effects on the environment that improper disposal causes. Additionally, the team at Interco accepts, processes, trades, and recycles an array of nonferrous metals. Interco recycles batteries of all shapes, sizes, and chemistry. Thus, the team at Interco continues to lead the way in terms of innovative industrial recycling solutions. Consequently, to discover more about how to recycle lithium-ion batteries, click here.