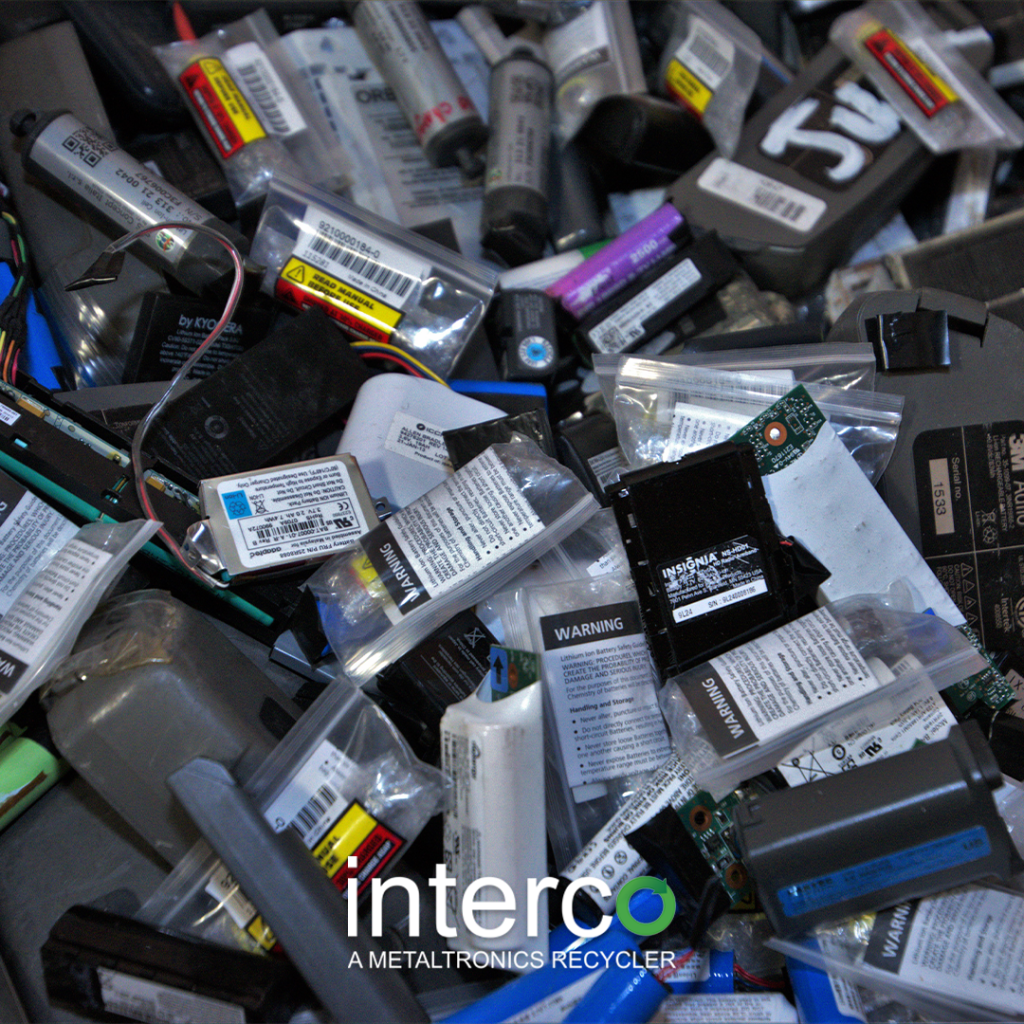 Who Recycles Scrap Lithium-Ion Batteries Near Me?
Companies that have a surplus of scrap lithium-ion batteries may be wondering what to do with them. Manufacturers and companies may be unaware of the potential recycling value of these scrap lithium-ion batteries. In fact, companies may even be wondering, "who recycles scrap lithium-ion batteries near me?"
A good place to start you research may be the ISRI website. The Institute of Scrap Recycling is the voice of the recycling industry promoting safe, economically sustainable, and environmentally responsible recycling.
Spent lithium-ion batteries contain valuable metals, such as lithium, cobalt, nickel, copper, aluminum and iron, as well as toxic materials such as lithium hexafluorophosphate and polyvinylidene fluoride. Recycling techniques recover 95% to 98% of a battery's nickel, cobalt, aluminum, graphite, and more than 80% of its lithium.
Companies could be looking at a potential payday when working with a recycling center, like Interco. Batteries that are found in consumer electronic devices are being regulated because they can be a problematic material in the recycling industry. Companies are constantly looking for way to solve the problem of scrap piles building up.
Battery Recycling Dos and Don'ts
Industries need lithium battery recycling processes to prevent a future shortage of cobalt, nickel, and lithium. When companies do not work with a recycling center, these toxic batteries end up in landfills. If these materials end up in landfills, they will cause more problems. In a landfill, they could leak into the local water supply and affect the environment and people living in the surrounding area.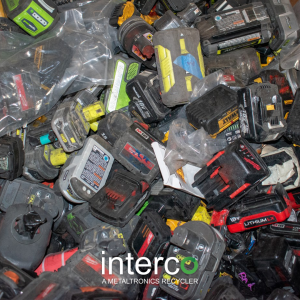 Dos
Remove the battery from the device whenever possible.
If the batteries are physically damaged, store them in an insulated plastic bag to avoid any short-circuiting.
Keep them in a cool and dry place to avoid combustion.
Bring them to a certified recycling provider who can safely deal with the hazardous materials they may potentially contain.
Don'ts
Do not dump used batteries into your household waste
Do not crush or puncture the batteries resulting in leakage or short-circuiting
Don't store large quantities of lithium-ion batteries close together without capping or taping off exposed connectors
Do not keep old batteries close to flammable materials
The Recycling Process
50 percent of lithium-ion batteries can be recovered in an effective way if companies work with a recycler. Recycling centers can extract these valuable materials through this process:
Prior to the recycling process, companies need to deactivate the batteries.
Lithium-ion batteries are put in a specialized room that is oxygen-free.
Hydrometallurgy is the process of extracting metals from ores.
Next, the leaching process refers to the process of using aqueous solutions to extract metal from other metal bearing materials.
The battery components are separated intro three different items. These items may include cobalt, steel, aluminum, copper, plastic.
As a result, these valuable metals are retrieved, and companies sell them.
The recycling process is everchanging and that is why it is important to work with a certified recycling center, like Interco.
About Interco
Interco is a global recycling company providing metals, computers and electronics recycling services to industrial, dealer, and government organizations throughout the western hemisphere. The facility has a 145,000 sqft. processing plant committed to the processing of computers, electronics, and batteries with the remainder of the indoor facility used for the processing of nonferrous industrial metals.
The facility has five buildings — approximately 400,000 square feet total — on more than 35 acres. The company facility has more than 20 inbound and outbound docks for receiving and shipping nonferrous scrap material as well as a railroad rail spur to load rail cars.
The company is within proximity to four major interstates (I-44, I-55, I-64, and I-70) while centrally located just across the Mississippi River from St. Louis, Missouri in Madison, Illinois. The company offers a convenient delivery location as the facility is near four major interstates (I-44, I-55, I-64, and I-70) that intersect all of the Midwest and Central USA.
Recycle Lithium-Ion Batteries with Interco
Scrap piles of old batteries are increasing for companies. Companies will need to make a decision on how to handle the hazardous waste. In fact, companies may be wondering, "who recycles scrap lithium-ion batteries near me?" The answer is quite simply Interco. Interco recycles scrap lithium-ion batteries from anywhere in North America. Furthermore, the company will overcome any travel complications and work with you to satisfy any of your nonferrous scrap metal recycling needs. To learn more about Interco, click here.